Explore Tuesdays with Asheville's World-Traveling Chef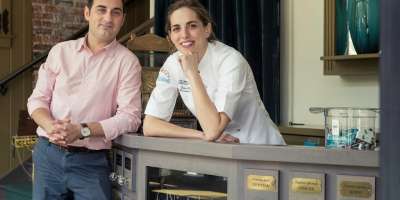 New Tasting Menu + TV Preview
Felix Meana & Katie Button of Nightbell. Photo courtesy of Nightbell.
As Chef Katie Button appears on television sets around the world in her hosting debut on
The World's Best Chefs
, fans of this
up-and-coming celebrity chef
and her inventive cooking are in for a special treat.
Beginning this evening, Button will be hosting Tuesday Tasting Menu events at
Nightbell Restaurant & Lounge
.
Each dinner is a prix-fixe, five-course meal featuring new cuisine created solely for these special evenings. Diners may also add optional wine or cocktail pairings, selected by co-owner (and Button's husband) Felix Meana.
Nightbell
, which opened in February, has become known for its petite versions of classic dishes, like bit-sized steak tartare in crispy cones or ceasar salad served in jicama-shell tacos. The restaurant recently moved to a full menu of sweet and savory bites, plus a build-your-own burger and an ever-changing menu of creative cocktails.
Tuesday Tasting Menu dinners will be held in three-week series, with the first being October 7, 14 and 21. The two remaining series for 2014 will be held November 4, 25 and December 2, and December 9, 16 and 23.
Dinners run $48 per person, not including beverages, tax or gratuity, and beverage pairings with cocktails or wine can be added for $30 or $34, respectively. Reservations are available by calling 828-575-0375 (after 3 p.m., Wed.-Sun.) and require a $25 non-refundable reservation fee.
Check out 
Nightbell's website
 for additional information, and for details about the upcoming Halloween masquerade party!
And in the meantime, don't miss this preview for The World's Best Chefs, the new series hosted by Button herself, who travels the world and enters the exclusive kitchens of the best-ever chefs and restaurateurs.
Meet more of Asheville's Foodtopians.
October 7, 2014