Eight Ways to Beat the Summer Heat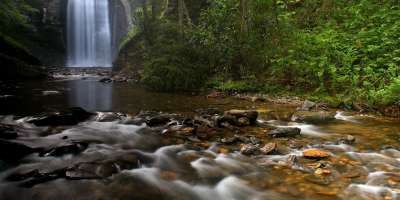 Escape the Summer Heat with an Asheville Adventure.
High temperatures are making waves across the country (heat waves that is). People everywhere are beginning to hole away in the safety of their air-conditioned home, but it doesn't have to be that way. You can still enjoy the great outdoors despite the hot weather with an escape to the Asheville mountains. Choose from these eight adventures when planning your summer vacation.
1. Secret Swimming Holes - Asheville's back yard is full of refreshing mountain streams. Take the plunge into one of the best swimming holes in the Blue Ridge Mountains. You can supersize your experience with a visit to Sliding Rock, the king of all swimming holes.
2. Waterfall Hunting - Hundreds of waterfalls dot the mountain landscape and many of them come with a built-in plunge pool at the base. Choose your own adventure or head out to one of our favorite waterfalls in the region. Just be careful - waterfalls can be extremely dangerous. Never climb to the top or attempt to look over the edge from above. Currents can be swift and rocks are incredibly slick.
3. Beer City - It's not as trip to Asheville without the perfect pint of locally crafted brew. With over 50 local beers on tap from our ten+ breweries, you'll discover why we're a hop-head Nirvana.
4. Navitat Canopy Adventures - Have it made in the shade on this zipline adventure. Take in the panoramic views while you soar 200 feet in the air on  one of the greatest canopy tours in the nation.
5. Altitude Affects Attitude -  Get your head in the clouds atop Mt. Mitchell, the highest peak east of the Mississippi. Enjoy a plethora of hiking trails and one amazing panoramic view. At an elevation of 6,684 feet you'll experience temperatures 10-30 degrees lower than Asheville.
6. We All Scream For Ice Cream - We're not talking about your box of Neapolitan from the grocery store. No way! In Asheville we shake it up, with flavors like Highland Mocha Stout, Mango Lime Chili and Salted Caramel. Locals love the one-of-a-kind flavors from ice cream shops like The Hop and Ultimate Ice Cream. 
7. Splasheville - Downtown Asheville's interactive water fountain acts more like a giant water gun. You can try to dodge the arching sprays of water, but odds are, you're going to get soaked.  Let the summer sun dry you off while relaxing on the rolling green field that Pack Square Park provides. The fountain runs from 8 AM through 8 PM.
8. Make Some Waves - Find yourself immersed in a whitewater adventure. Rivers in Asheville range from tame to wild and you can make the scenic journey downstream via tube, raft or kayak.
Book your outdoor adventure and save with one of these special deals!
June 29, 2012