East Coast Hollywood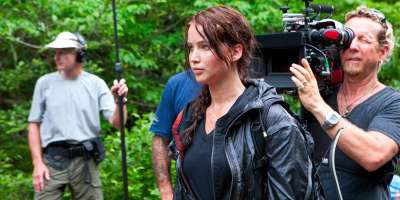 Academy Award Winners with an Asheville Past.
The 2013 Academy Awards shined a spotlight on many of Hollywood's best and brightest, and many of the night's biggest winners have prior connections to Asheville and the surrounding mountains.
Jennifer Lawrence filming The Hunger Games
The starlet has become a star. Jennifer Lawrence has received an Academy Award nomination in the past, but this time she won, taking home the Oscar for Best Actress in a Leading Role for her part in Silver Linings Playbook. Jennifer is best known know for playing Katniss Everdeen, the lead role in The Hunger Games, which was filmed throughout Western North Carolina during the summer of 2011. Learn more about her time in Asheville and check out behind the scenes footage from the movie. 
Before directing Argo, which took home the Oscar for Best Picture, Afleck was touring Western North Carolina with Sandra Bullock for their 1999 movie, Forces of Nature.
Daniel Day Lewis
Daniel Day Lewis filming
The Last of the Mohicans.
For his portrayal of Abraham Lincoln, Daniel Day Lewis secured this year's Oscar for Best Actor in a Leading Role. Back in the early 90's, Day-Lewis spent time in Asheville for his role in The Last of the Mohicans. While he didn't win an Oscar for the role, he did cinch three major British awards for Best Actor. The movie itself won an Oscar for Best Sound.
Okay, so this one is a stretch, but it's an Asheville connection nonetheless. This year, Lee won Best Director for his work on Life of Pi. In 2003, Lee submitted his feature length movie, One Last Ride, at Asheville's Inaugural Film Festival.
Anyone who was alive in the late 80's knows the song (I've Had) The Time of My Life. Did you know it won an Academy Award for Best Music, Original Song? Scenes from Dirty Dancing were filmed at Lake Lure, located just south of Asheville. 
Learn about all of the movies filmed in Asheville.
February 26, 2013