Drinking the Harvest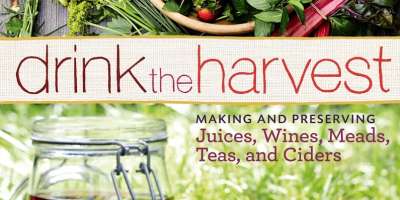 Cookbook offers a sip 
of summer 
sweetness
Have you ever wanted to bottle up the flavors of summer and pull them out in the cold of winter? A recently renewed interest in jams, pickles and other canned goods has already extended the season for fleeting market favorites, and now two Asheville gardeners have taken their love of local to the next step.
Drink the Harvest
is the newest cookbook from DeNeice Guest and Nan Chase, who see their gardens as the sources of any number of fresh beverages, from rhubarb juice to the versatile blueberry basil syrup featured below. The book also covers pear cider, mead, kombucha, and several fresh juices and teas for all seasons.
Guest and Chase aren't the only ones sipping the bounty of the garden this summer. Local bartenders are mixing up local flavors as well, like the fresh gin and sodas we recently sampled at
Top of the Monk
cocktail bar, which were sweetened with strawberry basil and vanilla bean raspberry syrups.
Blueberry Basil Syrup
Use this unusual syrup for almost anything at all; it has a sophisticated and unexpected flavor that preserves the complexity of basil with the heavy fruitiness of blueberry. Raw cane sugar, rather than white sugar, imparts even more flavor notes, creating a dark, velvety liquid.
Makes 1 pint.
Prep time: 10 minutes, if using prepared fruit juice
Ingredients
2 c. blueberry juice
2 c. raw cane sugar
1 c. fresh basil leaves
1/8 tsp. ascorbic acid (omit if prepared juice already has ascorbic acid added)
1. Combine the juice, sugar and basil leaves in a saucepan, and bring to a full boil. Reduce the heat and simmer 5 minutes. Skim off any foam.
2. Remove from the heat. Add ascorbic acid if needed and stir.
3. Strain out the basil leaves. Pour into sterilized containers, seal and label.
This syrup can be used immediately or stored in swing-top bottles for up to a year with ascorbic acid, or six months without it. Store in the refrigerator for up to two weeks after opening.
Recipe excerpted from
Drink the Harvest
(c) by Nan K. Chase and DeNeice C. Guest, photography (c) by Johnny Autry, used with permission from Storey Publishing
July 31, 2014