Downtown After 5 Begins Friday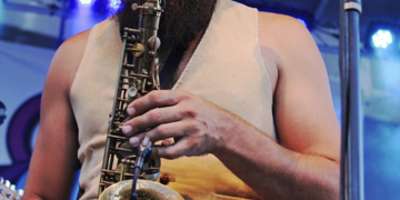 2013 Marks 25th Anniversary of Asheville's Friday Night Street Festival.
Get your dancing shoes ready! The 25th Anniversary Season of Downtown After 5, presented by Harmony Motors, kicks off Friday, May 17 from 5-9 p.m. with Big Sam's Funky Nation taking the stage following local opener, Empire Strikes Brass. 
Taking place the 3rd Friday of the month from May through September, Downtown After 5 is located at N. Lexington Avenue and I-240 and is always free. 
A driving force of urban funk led by Big Sam on trombone, headliner Big Sam's Funky Nation's horn-heavy sound masterfully blends funk, rock and jazz. Big Sam has shared the stage with Widespread Panic, Elvis Costello, U2 and Green Day. Local opener, Empire Strikes Brass' 10-piece stage band includes members from Squirrel Nut Zippers, Karl Denson's Tiny Universe and Big Ol' Nasty Getdown.
The fun doesn't end when the music stops. After this Friday's event Asheville On Bikes will host "Bright Light Biker," a moonlight ride through downtown ending at Asheville Brewing Company on Coxe Ave. Participants are encouraged to "light up" both their bikes and themselves and prizes will be awarded for best decoration and best costume. Plus, it's the perfect way to wrap up Strive Not to Drive Week. 
Thirsty concert-goers will find local brews from Highland Brewing Company, Pisgah Brewing, Asheville Brewing Company and French Broad Brewing Company. Plus, regional favorites Sierra Nevada, SweetWater Brewing and Foothills Brewing as well as national brands from Budweiser and Empire Distributing will be on tap. Wine and water will also be available for purchase. 
To purchase alcohol attendees will need to show a valid picture ID and buy a $2 wristband. Proceeds from wristband sales for May's event support Asheville GreenWorks. An affiliate of Keep America Beautiful, GreenWorks is a volunteer-based organization working to achieve a clean and green Asheville and Buncombe County through community organizing, education and environmental stewardship.
From sandwiches to pizza and ice cream to tacos, food vendors offer a something for everyone's taste. 
Downtown After 5 is committed to reducing its impact on the environment and features a solar-powered stage, complimentary bike corral, compostable food and beverage containers, and staffed recycling and compost bins. Since implementing its greening initiative, the event has reduced the number of bags headed to the landfill to just a handful. 
More information about Downtown After 5 and the Asheville Downtown Association can be found online at www.ashevilledowntown.org.
May 15, 2013