Diana Wortham Theatre Announces 2013/14 Lineup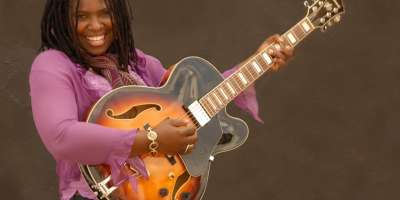 Catch an Incredible Performance During the Mainstage Season.
The Diana Wortham Theatre in downtown Asheville, has announced the lineup for the 2013/2014 Mainstage Series. This year's performances include a wide range of top touring artists in music, theater, dance, comedy, and other performing arts. Tickets for all performances are available  at www.dwtheatre.com as well as from the box office at (828) 257-4530. 
Calendar of Events
Ruthie Foster
Ruthie Foster
September 20, 2013
Award-winning blues artist Ruthie Foster smolders, sizzles and ignites as she opens the season with her drop-dead gorgeous voice, indelible presence and hand-picked blues band.
Diavolo Dance Theater
October 8-9, 2013
This renowned company redefines dance with their magnificent sets, daring feats and dramatic movement that make audiences gasp aloud.
Sandra Bernhard: SandyLand
October 12, 2013
In her own one-of-a-kind live performance, "SandyLand," Sandra Bernhard sharply blends theatre, rock-n-roll and stand-up comedy with a little burlesque and cabaret.
Chic Gamine
October 18, 2013
Chic Gamine is a hot new Canadian band giving a fresh spin to the classic 1960's girl group sound, crossing Motown rhythm and soul with hip, modern sensibility and grit. 
Yamato: The Drummers of Japan
November 9, 2013 (two shows)
The highly skilled men and women of Yamato: The Drummers of Japan put their souls into performing on a mind-altering array of traditional percussion instruments in their 20th Anniversary Tour performance Rojyoh – The Beat on the Road.
Jim Malcolm: Just Flown in From Scotland
November 20, 2013
The ultimate troubadour, Jim Malcolm warms the soul with masterful guitar and harmonica peppered with funny stories and engaging wit in the great tradition of Scottish folk artists.
Susan Werner: The Hayseed Project
November 21, 2013
Immensely popular acoustic musician Susan Werner returns with her newest project Hayseed paying tribute to American agriculture and her Iowa farm roots by revisiting the language and people she knows best.
Chic Gamine
Photo by Rebecca Sandulak
Shakespeare on Trial
November 22, 2013
Don't miss the chance to see the performance that brought down the house on its last visit to Diana Wortham Theatre as writer Bill Shakespeare encounters four of this own most famous characters up-close, personal and ticked-off.
A Swannanoa Solstice
December 22, 2013 (two shows)
Experience the reflection, connection and celebration of the season with the beloved Asheville holiday tradition featuring award-winning recording artists Al Petteway, Amy White and Robin Bullock who are joined by a wealth of storytellers, dancers and special guest musicians, along with host, Doug Orr.
Eisenhower Dance
January 17 & 18, 2014
Be mesmerized by the stunning technique and innovative choreography of Eisenhower Dance, one of the finest contemporary dance companies in the nation. 
Dirty Barbie and other girlhood tales
January 23-25, 2014
Written, directed and performed by Denise Stewart, Dirty Barbie is an effortlessly honest and wonderfully authentic performance full of universal truths that speaks to the secret lives of girls, the way we play, and the unsupervised side of childhood.
Aquila Theatre in Fahrenheit 451
January 31, 2014
Imago Theatre: FROGZ
Aquila Theatre's "two plays in one weekend" is an Asheville tradition that begins with Ray Bradbury's visionary parable Fahrenheit 451 and its pertinent issues of censorship, the effects of technology on society and literature and the means by which knowledge is gained.
Aquila Theatre in Twelfth Night
February 1, 2014
Aquila Theatre's "two plays in one weekend" concludes with William Shakespeare's irresistibly charming Twelfth Night with a remarkable original musical score that promises to thrill and enchant.
Sutton, Holt & Coleman
February 8, 2014
Grammy Award winners Bryan Sutton, David Holt and T. Michael Coleman masterfully plumb the depths of North Carolina's rich musical culture with a variety of traditional instruments, three-part harmonies and a mixture of traditional and original songs.
Norm Lewis
February 9, 2014
Tony-nominated leading man, smooth baritone and star of ABC's hit series Scandal, Norm Lewis is one of today's foremost actor vocalists. This performance is a special benefit evening for Diana Wortham Theatre and will include a celebratory post-performance sparkling wine reception and meet-and-greet with Norm Lewis, for VIP ticket buyers.  
Imago Theatre: FROGZ
February 13 & 14, 2014
Imago Theatre explodes performance boundaries in FROGZ as comedic amphibians, acrobatic larvae, circus boulders, and metamorphosing humans take the stage in works which tantalize your senses and intellect. 
Dervish
February 22, 2014
One of the all-time great Irish bands, Dervish's incredible energy and its charismatic singer Cathy Jordan transport its audiences to the spirited pubs and wild beauty of the west of Ireland.
The Paul McKenna Band
March 14, 2014
With a contemporary approach, the Paul McKenna Band honors the traditional alongside the innovative and has established itself as one of the brightest young Celtic bands on the scene. 
The Chase Brock Experience
photo by Rosalie O'Conner
The Chase Brock Experience
March 21 & 22, 2014
One of WNC's most notable young cultural prodigies: Hendersonville native Chase Brock, choreographer of Broadway's Spiderman: Turn Off the Dark, brings his New York-based dance company to Asheville to perform some of its hottest, hippest works.
LEO: The Anti-Gravity Show
March 28 & 29, 2014
In this gravity-defying one-man show fluid, real-world handstands, tumbles and falls are projected by an ingenious video stage concept, and the simple act of standing up is transformed into a stupendous feat, while walking up a wall becomes the most natural and effortless event.
The Pedrito Martinez Group
April 11, 2014
World-renowned Cuban conga player Pedrito Martinez and his Peruvian, Venezuelan and Cuban bandmates comprise a one-of-a-kind Afro-Cuban ensemble with a charismatic sound that is sure to ignite. 
The Teetotallers
April 18, 2014
Leo: The Anti-Gravity Show
photo by Andy Phillipson
Marvel at the Celtic sound of three world-class Grammy nominated performers – together for a triple threat evening of their combined talents. Asheville's own John Doyle is joined by BBC Radio's Folk Instrumentalist of the Year Martin Hayes and Lúnasa's Kevin Crawford in this outstanding trio. 
Cathie Ryan
May 2, 2014
With a voice of luminous clarity and an award-winning Celtic band, Cathie Ryan is sure to please with her charming repartee and dazzling sets of traditional tunes.
Sierra Hull
May 3, 2014
At age 21, mandolin player Sierra Hull has emerged as one of bluegrass's full-fledged virtuosic instrumentalist/signer-songwriters, and a leading light in a new generation of bluegrass musicians.
The Spencers: Theatre of Illusion
May 9 & 10, 2014
Blending the theatrical elements of a Broadway production with the driving energy of a rock concert, these "Modern Day Houdinis" take their audience on a journey to the bring of impossibility. 
For information on the matinee series for students, visit here.
Learn more about performing arts in Asheville.
September 3, 2013