Democratic National Convention Coming to North Carolina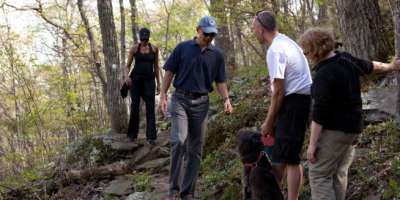 It's official! The 46th Democratic National Convention is heading to Charlotte in 2012, less than two hours away from our vibrant mountain city. North Carolina and Asheville have become very familiar to the Obamas, who spent quite a bit of time here on the campaign trail.
Did you know that President Obama actually practiced for one of the televised debates in Asheville at the historic Grove Park Inn Resort & Spa?

In fact, the President was so taken with Asheville (and–rumor has it–the Donald Ross golf course at Grove Park Inn) that he came back this past spring...and he brought the First Lady with him for a romantic weekend getaway.

Check out what Michelle Obama has to say about Asheville in her comments on the Democratic National Convention announcement.

Want to vacation like the President? The Obamas surprised everyone with their first stop in Asheville -- check out the video and their vacation itinerary here.
Get a deal on presidential digs. Check out the Ten Presidents Vacation Package from the Grove Park Inn Resort & Spa.
February 1, 2011