Climbin' The Chimney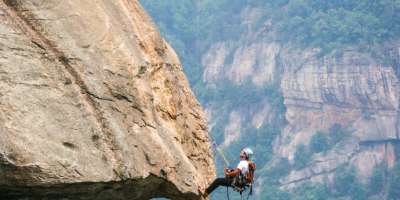 Chimney Rock Park Offers Guided Rock Climbing & Rappelling.
The dramatic mountain scenery of Chimney Rock State Park draws hundreds of thousands of hikers and sightseers from around the world every year, but far fewer have experienced the thrill of rock climbing hundreds of feet above Hickory Nut Gorge on these majestic rock cliffs. Climbin' the Chimney on Saturday, March 2, 2013, is an opportunity to get elevated in a new way—on a rope. From 11am-3pm, get climbing at Chimney Rock with the Southeast's leader in climbing education, Fox Mountain Guides. 
For beginners, climb on Vista Rock and rappel off a rock slab, or for experienced climbers, test your skills on two difficult routes up the iconic Chimney. Two to four climbs and rappels are offered for only $20 plus Park admission. All equipment is provided and no experience is necessary.
February 26, 2013