Choose Your Own Waterfall Adventure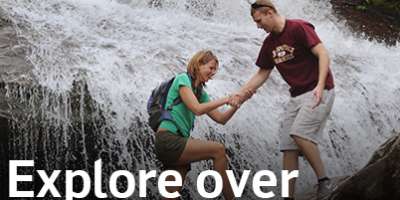 Asheville Insider Tip: Choose From Over Over 200 Waterfall Adventures.
The Blue Ridge Mountains are chock-full of incredible waterfall adventures. Some of them are super easy to find (See: Looking Glass Falls), while others may provide a more strenuous hike before you reach the payoff.
The first step is determining what area you want to explore. The Cullasaja Gorge, DuPont State Forest, and Pisgah National Forest are all great places to start. South of Asheville in Transylvania County there are so many options that they call themselves the Land of Waterfalls.
Don't Go Climbing Waterfalls
Sure you love an adventure, and what's more thrilling than scaling a 200 foot mountain side with slippery rocks, loose hand-holds and, oh right, a non-stop rush of falling water? Failure to abide warning signs, or safety fences has resulted in tragedy for too many people so admire nature's beauty from below. If you have small kids, watch them closely. If you're at the top of the falls, don't go wading inside. It may look calm on top, but the undercurrent could sweep you right over the edge. You're smart enough not to let that happen to you, but it has happened.
Discover more outdoor water adventures in Asheville.
June 25, 2013