Chilly? Experience tropical luxury at the Biltmore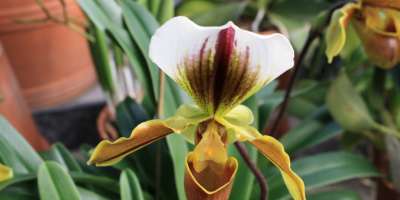 It's been a chilly winter for many people across the U.S., with record snowfalls and plummeting temperatures. It's been chilly in Asheville, too--although you wouldn't know it with the
spring-like weather we've been having
this week.
But what better way to look toward spring than to step into a balmy Victorian greenhouse and enjoying the brilliant blooms of more than 70 colorful orchids.
The orchids at Biltmore Estate are in peak bloom between now and the end of March
, and the picturesque Conservatory, designed by Biltmore architect Richard Morris Hunt, is open 365 days a year. The Orchid Room features several varieties, including some
epiphytes
, which use aerial roots to get their nourishment.
While you're visiting
the Biltmore Estate
, don't forget to check out the flower arrangements in the house's winter garden--just another spot to enjoy spring a few weeks early.
Check out more orchid photos
on our Facebook page
.
February 17, 2011