Chicken & Waffles for West Asheville + Recipe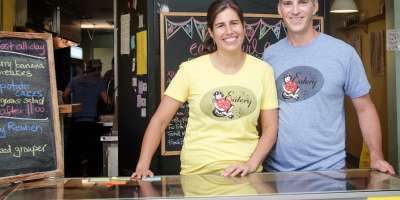 Early Girl's owners turn focus to soul food
John & Julie Stehling, owners of Early Girl Eatery

and the soon-to-open King Daddy's Chicken & Waffle
Is it breakfast? Is it dinner? Is it sweet? Is it savory? Maybe it's the contradictory questions surrounding a plate of chicken and waffles that make this classic soul dish such a treat.
Either way, fans of the crispy, crunchy combo will soon be drooling over their dishes at a new restaurant in West Asheville.
King Daddy's Chicken & Waffle is set to open up at the end of this month, according to owners John & Julie Stehling.
The Stehlings have operated the ever-popular
Early Girl Eatery
in downtown Asheville since 2001, serving up fresh takes on Southern food, created with ingredients sourced as nearby as possible.
The new spot will be joining a string of great places in West Asheville, which was
recently hailed in the New York Times as "a blue-collar hybrid with yoga studios and bistros joining longtime establishments along the main drag."
King Daddy's will be located right on that main drag, at 444 Haywood Road, and eager fans can follow updates on
the restaurant's Facebook page
.
RECIPE: King Daddy's Beet Burger
We couldn't get our hands on the secret recipes for the restaurant's signature dishes, but this beet burger combines a slew of fresh ingredients into one comforting (and healthy!) meal. The Stehlings recommend serving the beet burger open-faced on a waffle with roasted tomato, avocado and more Lusty Monk mustard. Dig in!
12 oz. beets, cooked and peeled
15 oz. black-eyed peas, drained and rinsed
15 oz. black beans, drained and rinsed
? c. brown rice, cooked
1 c. diced red onions
2 Tbsp. minced garlic
2 Tbsp. cider vinegar
2 tsp. cumin
1 tsp. coriander
1 tsp. smoked paprika
1 tsp. Lusty Monk mustard, or other whole grain mustard
1½ c. fine ground rolled oats (pulse in food processor until fine)
½ tsp salt
Oil, for sauteing and frying
1. Saute onions and garlic until soft, then add spices, mustard and vinegar and let cool.
2. Shred beets in large mixing bowl
3. Pulse black-eyed peas, black beans and cooked rice in food processor.
4. Combine all ingredients with just enough of the ground oats to pull mixture together.
5. Divide mixture and make into 6-ounce patties.
6. Fry patties in oil till golden.
March 8, 2014