Celebrate Spring with Zip Line and Canopy Tours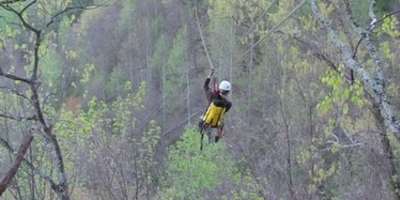 Navitat Canopy Adventures
welcomes spring with their grand opening on May 15. Navitat offers a new way to experience the mountains with a zip lines, sky bridges and rappels nestled high atop 240 acres of pristine forestland.
Save with Special Discounts
Dying to see our natural beauty from above? Be one of the first to book your tour and save. Anyone who books tours between May 15 and May 28 enjoys a 20% discount on their tour.
If you're a local looking to join the fun, Navitat offers two special discounts. Residents of Western North Carolina receive a 20% discount on Tuesdays, and NC Arboretum members receive a 10% discount with their Arboretum ID cards.
Meet the Newly Named Mascot
And if you're lucky, you might see Navitat's mascot squirrel chattering away in a tree while crossing one of the sky bridges. Navitat had a community contest to name their squirrel mascot and "Chester A. Corn" was the winning entry from Donna Cishek of Arden, NC.
May 5, 2010