Canned Goods: Asheville Craft Brewers Who Can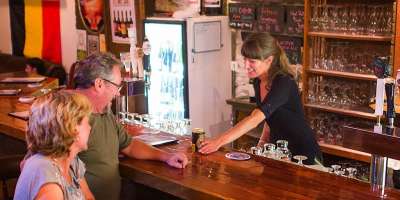 Pop Open a Brew for Beer Can Appreciation Day
Customers at The Thirsty Monk choose Asheville Brewing
Company's Shiva IPA in a can.
Many beer enthusiasts remember a day when the only beers that came out of cans were inexpensive, mass-produced lagers. No more!
We would like to take this opportunity, on Beer Can Appreciation Day (aka, January 24th) to express our sincere appreciation to the craft brewers who have changed the reputation of the humble can.
Oskar Blues Brewery
--which recently opened its East Coast location in nearby Brevard--was one such operation at the forefront of craft beer canning. They started putting their Dale's Pale Ale and Mama's Little Yella Pils in aluminum back in 2002 and never looked back.
Cans offer certain advantages over the traditional bottles--quick cooling, protection against breakage and the ability to tote them to beaches and pools, among others. So it's no surprise that over the past decade, more craft brewers have hopped on board.
Cans from local brewers like
Asheville Brewing Company
,
French Broad Brewing Company
,
Pisgah Brewing Company
and
Catawba Brewing Company
are readily available both in grocery stores and some area bars. Cans from
Frog Level Brewing
, located in nearby Waynesville, have started showing up at local specialty shops. And big names in craft brewing like
Sierra Nevada
and
New Belgium
are arriving in Asheville with a solid canning program already in place.
And those who love Beer City beers should expect to see more cans in the future, especially as a new mobile canning operator makes waves locally. Check out
this article by local beer expert Tony Kiss
for more information about what's on the horizon.
And in the meantime, grab a can of your favorite beer, pop it open, and appreciate.
Sample more of Asheville's beer scene.
January 24, 2015