Black Mountain Nominated for Prettiest Small Town in America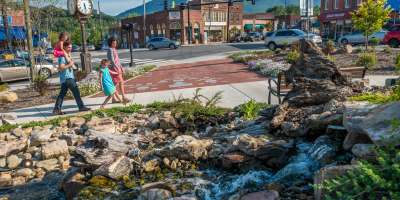 UPDATE (12/19/16):
Black Mountain, North Carolina, has won the TripAdvisor readers' choice award for Prettiest Small Town Vacation in America!
Thank you to everyone who voted to show support. Congratulations, Black Mountain!
View the final results.
ORIGINAL POST (12/1/16):
Asheville's neighbor to the east, Black Mountain, North Carolina, has been nominated by TripAdvisor as one of the prettiest small towns in America. You can help Black Mountain reach the top spot!
Why does Black Mountain deserve your vote?
Pick nearly any spot in town and you'll likely have an impressive view of the mountains. Locals call the visible peaks the Seven Sisters. The "sisters" ascend nicely to the "father" peak of Greybeard Mountain. One of the best vantage points is beautiful Lake Tomahawk, a public park with a well-maintained trail.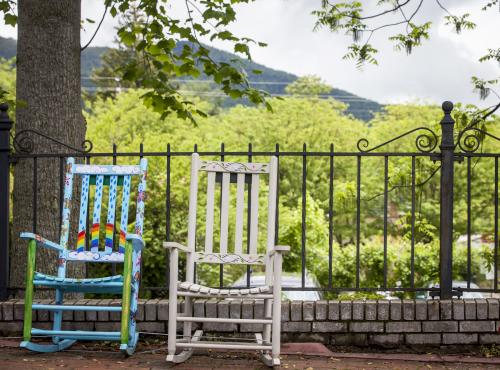 The mountains also provide a nice backdrop for the charming downtown, where the city's artistic culture is on full display in the form of many painted rocking chairs that line the downtown streets.
The chairs provide a place to relax between historic buildings and local shops, many of which sell handmade crafts by local artisans. The popular Seven Sisters Gallery and Mountain Nest Gallery anchor iconic Cherry Street and showcase the area's artistic range. In the 100-year-old Black Mountain Train Depot, you'll find the Old Depot Gallery full of locally-made creations.  The renovated old town hall, now houses the Black Mountain Center for the Arts, which also has a gallery and hosts concerts and theater performances. Live music shows, including bluegrass and mountain bands, are just part of the local culture at Black Mountain Ale House and White Horse Black Mountain.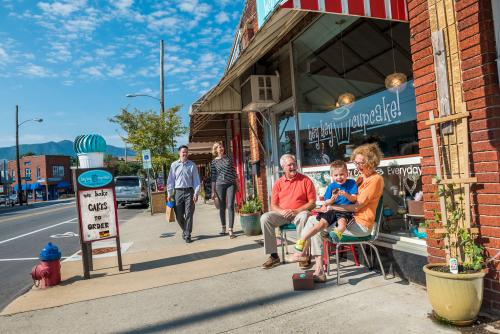 The mouth-watering food in town is also a thing of beauty. Start with breakfast at Louise's Kitchen, located in a historic Victorian home. Later, savor the slices at My Father's Pizza or dine at the delicious Black Mountain Bistro. Round out the day by warming up with a drink at Dripolator Coffeehouse and sinking your teeth into the treats at Hey Hey Cupcake.    
And, Black Mountain has a full plate of events throughout the year to enjoy. Next up, for the holidays, dozens of decorated trees brighten the Monte Vista Hotel as part of the Deck the Trees celebration. Black Mountain's largest festival of the year, the Sourwood Festival in late summer, attracts more than 30,000 people to downtown.
With more to see and do than you can squeeze into a day trip, there's also a wide range of places to stay, including historic inns, cozy B&Bs, quiet mountain cabins and modern hotels.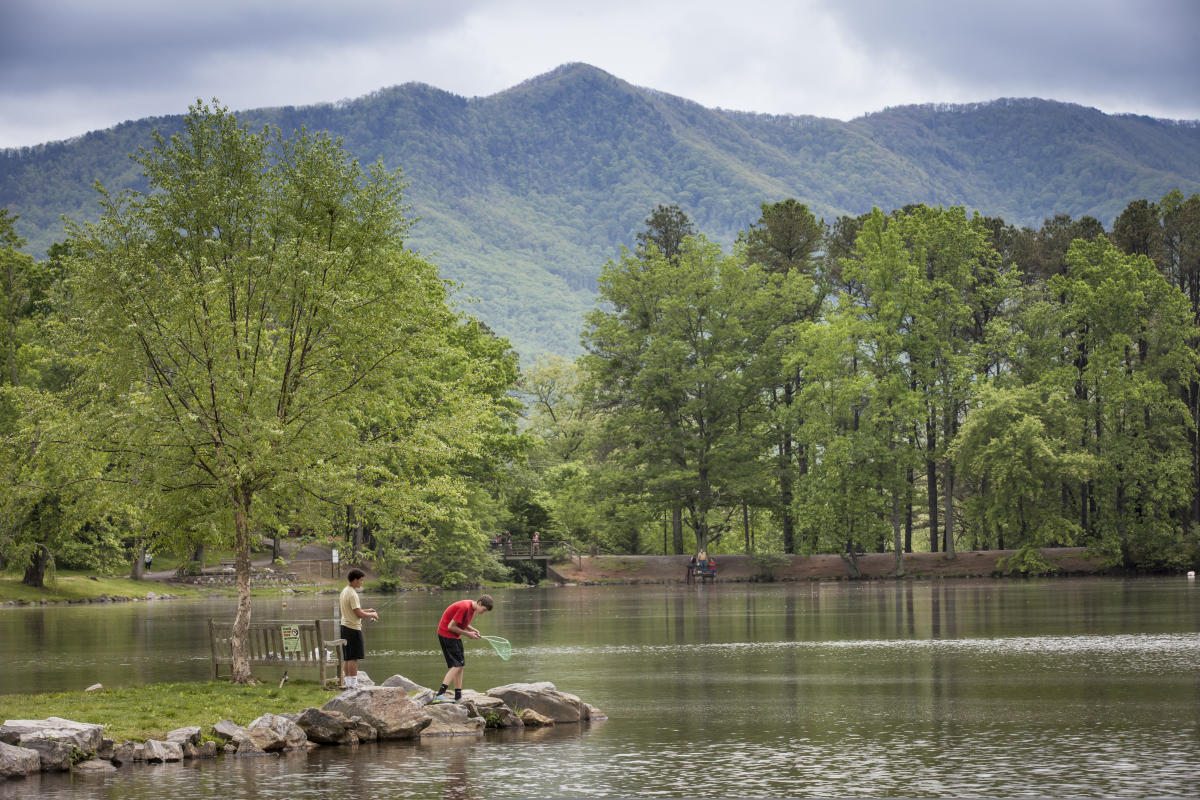 Top photo and sidewalk photo by Emily Chaplin. Rocking chair photo and Lake Tomahawk photo by Art Meripol.