Biltmore's Re-imagined Salon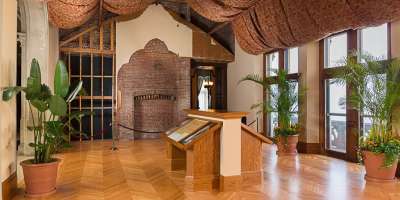 Newly Remodeled Room Inside Biltmore House Unveiled.
An almost completed Salon provides a look into the 
construction methods Richard Morris Hunt employed 
in the building  of Biltmore House in the late 1800s.
Recently, Biltmore announced completion of restoration work on the Salon inside the Biltmore House. Now available for public viewing, this room remained unfinished during George W. Vanderbilt's life. It was left with bare brick walls, rough subfloor and unfinished tiled ceiling. Here's more from Biltmore.
The Salon's history
Throughout the history of the house, the Salon has been used in a variety of ways.
Edith Vanderbilt, George's wife, had a love of drama throughout her life and often hosted masquerade parties and theatrical events in Biltmore House. After setting aside her plan to convert the Salon into an auditorium, Edith furnished the room as a Turkish Sitting Room, complete with Persian rugs, oversized cushions for guests to lounge on, and a draped fabric ceiling treatment that remains today.
When Biltmore House opened to the public in 1930, the room was reinterpreted as The Print Room. It became a display gallery that featured an architectural model of Biltmore House, Napoleon's chess set, and several rare prints by Albrecht Dürer.
During renovation
Construction details
Although Biltmore House may look like an old European castle made of thick blocks of stone, in actuality, it is a modern house made of brick and steel with a thin limestone veneer.
Architect Richard Morris Hunt chose these materials for their inherent strength and fireproof qualities. The far end of this unfinished room offers an unexpected look at Hunt's methods of construction. The exposed brick is a load-bearing wall that supports steel I-beam trusses above. 
Also revealed are an arched outline where Dürer's Triumphal Arch hung and a studded frame for a wall for Edith's 1920s Turkish Sitting Room.
The Salon now features information panels about the innovative construction materials used to build the house, with samples of the different brick types. 
Biltmore hollow ware brick: With a hollow interior cavity, these bricks provided the equivalent strength of a solid brick without the additional weight. They were used in non-loadbearing walls and to span ceilings, as illustrated above.
Biltmore brick: Solid terra cotta bricks, used for loadbearing walls, were made in Vanderbilt's nearby Brick and Tile Works. Producing bricks onsite reduced the production cost by more than a third—a significant savings considering the millions of bricks that were used in construction.
Materials used in the Salon
Ingham brick: Made in Leeds, England, these glazed bricks were used for the walls in the stables and the recreational and kitchen areas of the house, where surfaces needed to be easily washed.
Guastavino tiles: Spanish architect Rafael Guastavino adapted traditional Catalan construction materials and techniques to create a thin, remarkably strong fireproof tile which was easily set. Glazed in a creamy white, the tile was used throughout Biltmore House to create vaulting and decorative patternwork.
Ceiling trim: Edith Vanderbilt purchased a French jute and wool fabric and trim to cover the room's unfinished ceiling and adorn her new Turkish Sitting Room in the 1920s. 
Burlap: The walls of the Turkish Sitting Room were covered in burlap, adding to the Bohemian atmosphere of the room. The burlap was painted a cream color at a later date.
Wood flooring: In 1973, George Vanderbilt's grandson, William A.V. Cecil, opened the room as the Morning Salon, furnishing it in the spirit of the architect's vision. Biltmore's carpenters made oak flooring from estate trees, modeling it after the chevron patterns in other rooms.
See the other recent renovated Living Hall.