Biltmore to Feature Costumes From "Titanic" The Movie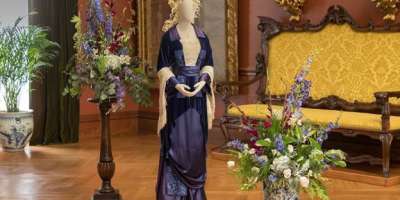 A first-of-its-kind exhibition showcasing the fashions from the movie Titanic will debut at Biltmore in February 2018. The Biltmore exhibition will mark the first large-scale exhibition of the costumes from the Oscar-winning film, which celebrates its 20th anniversary this year. Titanic, starring Leonardo DiCaprio and Kate Winslet, won a record 11 Oscars including Best Picture and Best Costume Design.
"Glamour on Board: Fashion from Titanic the Movie" is scheduled for Feb. 9 through May 13, 2018. An iconic blue dress worn by Kate Winslet is on display now in the house as a preview of what's to come. During the exhibition, you will have the chance to see 45 costumes on display in Biltmore house. Admission to the exhibition will be included in the general admission price.
The exhibition will represent the extensive wardrobes preferred by transatlantic travelers, like Biltmore's George and Edith Vanderbilt, in the early 1900s. Guests will learn more about the Vanderbilts' extensive travels while viewing these award-winning costumes.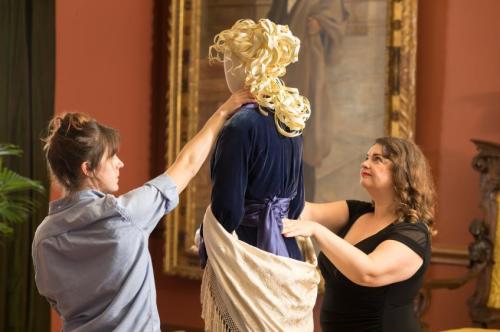 The costumes evoke the lifestyle of the era. First class passengers took every opportunity to see and be seen in the fashions of the time. They chose their wardrobe for strolling the promenade deck as carefully as for dining at elegant formal dinners. And, just like in Titanic, the days at sea fostered friendships and romances, including George Vanderbilt's courtship of Edith Stuyvesant Dresser.
A fateful decision: The real life Biltmore/Titanic connection
Did you know that George and Edith Vanderbilt were scheduled to be on the Titanic? The couple had booked a first-class cabin for the maiden voyage of the "unsinkable" ship that was set to depart April 14, 1912. They also had booked a second-class cabin for their footman, Edwin Charles "Frederick" Wheeler, who had loaded their luggage onto the ship leading up to the departure.
Accounts differ as to why, but at the last minute, George and Edith decided to not sail the Titanic. Instead they sailed the sister ship, the Olympic, a week earlier. Given the last minute change, their servants did not have time to repack their items. Wheeler sailed the Titanic to watch the Vanderbilt's belongings. He was among the more than 1,500 people who died when the Titanic hit an iceberg and sank.
To learn more about the Vanderbilt's fateful decision to not sail the Titanic and for more fascinating information on their lives, you'll be able to stop by the Biltmore Legacy building in Antler Hill Village. A special exhibit there will showcase artifacts from the Biltmore collection and stores from estate archives.
Photo credits: All photos courtesy of Biltmore.