Big Color Up Top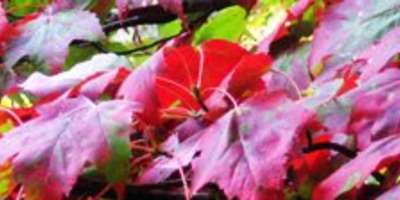 Big Color Up Top


Fall is the season of color, and that is exactly what we're seeing at higher elevations. Naturalist Jesse Pope of
Grandfather Mountain
has been seeing yellow birch, hobblebush, and many of the berry-bearing shrubs above 5,000 feet come to life in colors from bright red to maroon. In fact, the shrub-covered balds on the flanks of Grandfather Mountain are in nearly peak conditions. Color hunters also report that some maples are red, orange, and yellow and the birch have turned bronze and golden yellow.



Mid-Elevations Right on Schedule


You don't have to trek up to the highest peaks to find autumn hues. Although fall's peak is still a few weeks off in the Asheville area, the leaves are starting to color up nicely. At
Biltmore
and The
North Carolina Arboretum
, sumacs and dogwoods display a fiery red, while black gums and persimmons have turned a reddish-orange. According to Cindy Carpenter of the US Forest Service, there is already bright color on sourwood trees, especially the young ones in sunny areas. The area near the entrance to
Sliding Rock
on Highway 276 in the Pisgah National Forest is beautiful -- keep an eye out for the yellows, oranges, and reds on hydrangeas, bottlebrush buckeyes and Virginia sweetspires.



Ornamental Grasses and Wildflowers


One great thing about the diversity of plant life in Western North Carolina is that wildflowers dot the landscape as the trees change color. Goldenrods continue to show their brilliant yellows and mountain mints are snowy white. Fall asters are in bloom, displaying lavender and white. Purple top field grasses stay true to their name as their seed heads turn purple and cream.



Brilliant Bonsai


See tiny trees with big fall color. The North Carolina Arboretum hosts a unique perspective on autumn during the Southeast's premier annual
Carolina Bonsai Expo
on Saturday, Oct. 11, and Sunday, Oct. 12. Now in its thirteenth successful year, the Expo features juried exhibits by bonsai enthusiasts throughout the Southeast, as well as unique workshops, demonstrations, and a popular bonsai marketplace.

Updates
Make sure to check back each week for updates on where to find the best color in Western North Carolina. And as you're out this fall in the Asheville area,
share your fall photos
with us.



Insider Tips


Fall Harvest Tailgate Flavors of the Week: At the
markets
this week you will find pumpkins, winter squashes, and decorative gourds—everything you need for the perfect fall festival. If it's fruit you crave, apple season is going strong. Honey crisps, ginger golds, mutsus, fujis and galas are just some of the local varieties at area markets.
Budget Tip: You don't have to empty your gas tank to go sightseeing in the Asheville area. Asheville is a unique pedestrian-friendly and cycling-friendly destination, from our funky downtown to charming Biltmore Village to any number of breathtaking hiking trails. For a handpicked list of fun activities that allow you to park your car and explore, check our
fall gas-saving adventures
!
October 1, 2008