Bele Chere Best Bets: Insider Tips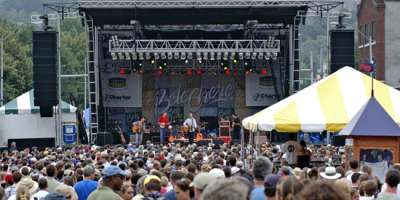 An Asheville summertime tradition kicks off this week in the streets of downtown. Starting this Friday you can enjoy the sights and sounds that have made Bele Chere the largest street festival in the southeast. Here are some insider tips on what's hot, what's new and what festival favorites will be returning.
More Music: This year, bands performing at Bele Chere will be playing extended 90 minute sets. Organizers say this will allow people to catch multiple acts that may be performing at the same time. Be sure to catch Friday night's performance by the up and coming Mark Broussard. He's the next "big thing" in the music biz and this is your chance to see him for free! Also be sure to check out some of our great local bands including, Balsam Range, Skinny Legs & All, Vertigo Jazz Project, Paper Tiger and the Secret B-Sides.
Feed Your Face: Find the Pritchard Park food court for traditional festival fair such as gyro's, funnel cakes, hot dogs and snowballs. If you're interested in local flavor then check out the Taste of Asheville section located at Pack Square Park. A number of local restaurants will be on hand including Mela, Corner Kitchen and Vincenzo's.
Family Friendly: As always there will be a kid zone in the Asheville Civic Center. Enjoy crafts, ticketed rides and exhibits, all in a secure (and air-conditioned) arena. Be sure to catch the hula hoop demonstration, sing-a-longs and cool wildlife demonstrations courtesy of the WNC Nature Center. Another fun activity for the family is Airdogs! Watch a variety of pooches try to capture the title of top dog in this dock jumping competition. This popular Bele Chere event offers audience members a chance to win prizes as well (no jumping required).
Channel Your Inner Artist: The Bele Chere mural will return this year and you can leave your mark on this multi-panel display that encourages creativity for all ages. New this year - a mobile art lab will be on hand complete with a photo booth. The photos will be projected onto the BB&T building throughout the festival.
Interactive Performances: It's never too late to learn a new skill. Enjoy a zumba lesson, learn a new dance routine and perform it live at the festival or participate in the community drum circle. Ball room, Two step, and clogging are also planned. Look for these activities to take place on Lexington Avenue.
Cool Off:
Your best bets for beating the heat include
two mist tents located at Pritchard Park on College St. and outside of Blue Spiral Gallery on Broadway Ave. Need more than mist? Head over to Pack Square Park where you'll find Splasheville, an interactive water feature that provides instant relief from July temps. 
Late Night: Bele Chere will be winding down around 10 PM on Friday and Saturday nights, but that doesn't mean the party has to end. Many restaurants surrounding the downtown area will be running Bele Chere specials. Hungry? There are some great late-night eateries including Storm Rhum Bar & Bistro, Rosetta's Kitchen and MoDaddy's.
July 25, 2011