Beer City Sunshine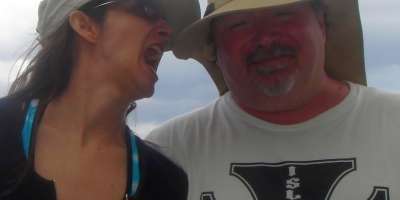 Winner Announced in the Name the Asheville Brew Contest.
Our Grand Prize Winner: Terry J of Saranac, MI.
The votes have been tallied in our name the brew contest, and the one with the most public support (by a huge margin) was "Beer City Sunshine" sent in by Terry J. from Saranac, MI. Terry will receive a vacation prize pack to Asheville including overnight accommodations at the newly renovated Doubletree by Hilton Asheville Biltmore and other beer-centric goodies. His face will also grace the label of his new Beer City Sunshine brew crafted by Asheville Brewing Company. Smile for the camera and say "Beer City!"
Brewer's Choice (SURPRISE!)
There were hundreds of beer names submitted in our brewcation contest and the folks at Asheville Brewing Company had a hard time just limiting it to one winner. So, as a surprise, they have awarded "Perfect Day IPA" by Sadie S. the brewer's choice award! They are currently crafting the recipe for her newly named beer.
The runners up:
Look Homeward Ang-Ale by Lori T. 

Keep Asheville Hoppy by Des. M 

Land of the Sky.P.A. by Pauline A. 

Brewridge Ale by Marcia V. 

Altitude Adjustment by Pamela A. 

Blue Ridge Bohemian by Jim M.  

Asheville Brewhaha by Susan S.

Hoppy Hiatus by Kim J. 
Our favorites that didn't make it to the final round:
Brewtopian

Asheville Brewhaha

Gladys Knighting Ale

Male Nun on a Bicyc-Ale
A big thank you to everyone who participated and congratulations to our winners!
Don't forget: Vote Asheville in the 2013 BeerCity USA poll!
May 7, 2013