Be a Smart Holiday Host with Economical & Easy Appetizers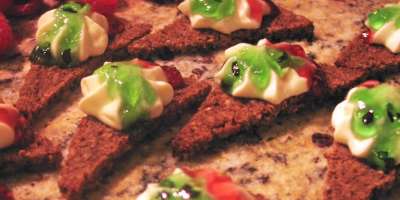 'Tis the season for parties, potlucks, and unexpected guests. How do you feed hungry holiday drop-ins without sacrificing style—or money? According to Anthony Cerrato, chef and owner of Fiore Ristorante Toscana, the answer is a delicious appetizer that's big on taste and short on cost. His recipe for pumpernickel toast requires only five ingredients and costs just $0.23 per serving!
Blue Ridge Pumpernickel Toast
Ingredients
2 oz. loaf of pumpernickel bread (thinly sliced)
8 oz. cream cheese
2 oz. local honey
9 oz. jar of green jalapeno jelly
9 oz. jar of hot raspberry jelly

Method
Cut pumpernickel into 2" squares, then make one diagonal cut to create triangles. Lightly toast pumpernickel triangles at 375 degrees for 3 minutes. Whip cream cheese with honey. (We recommend honey from your local farmer's market.) Place cream cheese mixture into a pastry bag fitted with a small star tip. Pipe cream cheese onto pumpernickel triangles and set aside. On a stove, warm raspberry jelly and green pepper jelly in separate pots. Heat over medium heat and stir until hot. Remove from heat and spoon hot jellies on the pumpernickel, placing a dot of each on top of the cream cheese.

Yields
42 toast triangles
December 3, 2008