Autumn has Arrived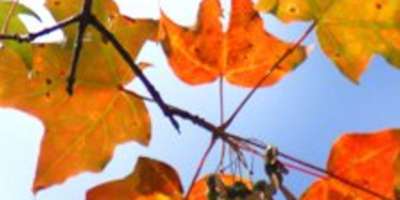 (September, 24, 2008) — Autumn officially arrived this week and brought early signs of fall color to many mountainsides at higher elevations as well as crisp, cool nights which are a necessary ingredient for the perfect fall color recipe.


Berries and Seeds
Color changes remain subtle which Parker Andes, director of horticulture at Biltmore, describes as characteristic of early fall. While leaves have lost their summer green, most have yet to show their full color. Now, you will find bright red berries on dogwood trees and American hollies. Sumacs are producing seed heads of a deep burgundy hue, a slight variation from the staghorn sumac's dark red seed clusters.
The Changing Leaves


As far as leaves go, sumacs are just starting to turn red. Sweet gums and black gums now display a red-orange color, while virginia creeper vines are as red as can be. At 3,200 feet in Boone, NC, leaf peeper Mac Forehand shared dogwoods are showing a tinge of red and the decorative maples around the Appalachian State University campus are turning yellow.
Wildflowers in Bloom


For a good view of the changing leaves, Blue Ridge Parkway leaf peepers report early fall color near milepost 295 in the higher elevations of Western North Carolina. Surprisingly, the main attraction on the Parkway this week is not the leaves, but the multicolored wildflowers. In Blowing Rock – elevation 3,500 feet – chicory (lavender), goldenrod (yellow), tall ironweed (lavender), white snakeroot, angelica (greenish-white), and foxgloves (purple, pink, white, and yellow) still proudly display the last of the year's blooms. Queen Anne's lace (pink, white), black-eyed susans (yellow) and yellow wood sorrels continue to populate the Parkway's meadows and roadsides. Asters, goldenrods and lady's-tresses orchids (white) are still in bloom near Doughton Park at milepost 241. On I-26 by Exit 9, cosmos paint a meadow pink.
Weekly Updates


Make sure to check back each week for updates on where to find the best color in Western North Carolina. And as you're out this fall in the Asheville area,
share your fall photos
with us.
Insider Tips


Fall Harvest Tailgate Flavors of the Week: Now is the perfect time to pick up a bushel of apples at area
tailgate markets
. Honey crisps, ginger golds, mutsus, fujis, and galas are just some of the local varieties you'll find here. Keep an eye out for some delicious and refreshing apple cider too. Market managers also note seeing a lot of sugar pumpkins lately too which are great for baking.
Budget Tip: Save time and money by letting the
Asheville Visitor Center
concierge hunt for your room. The concierge has access to room availability and discount information, even for last-minute bookings.
September 24, 2008