Asheville's Sunny Point vies for America's Best Breakfast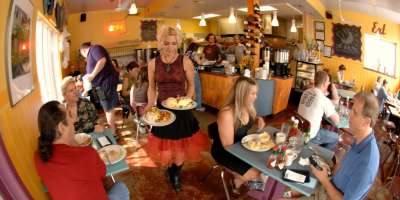 ABC's Good Morning America Weekend is scouring the country for America's Best Breakfast.
With lines out the door, uber-fresh local ingredients and their very own restaurant garden (literally) outside the kitchen door, it is no wonder that
Sunny Point Café
has made it to the final four to represent Asheville's
Foodtopian Society
. In advance of a nation-wide vote scheduled for May 15, GMA correspondent Marysol Castro visited Asheville's bohemian-chic west side this morning to taste for herself.

The dish? Sunny Point's Huevos Rancheros: Savory black bean cakes served with Snow Creek chorizo sausage, feta cheese, roasted tomatillo salsa and herb-tossed red skin spuds topped with two free range eggs, cilantro crema and crispy tortilla strips. Mmm…



Don't Forget to Vote


Fans of Sunny Point Café and Asheville's farm-fresh food scene should watch Good Morning America Weekend on Saturday, May 15 and vote like crazy. Popular vote counts for half of the competition, with the votes from an on-air tasting with the GMA hosts rounding out the total score for America's Best Breakfast (
click here to see the rules
). The winner will be announced live the following morning.

So, Foodtopians unite! Help us spread the word and get out the vote on
Facebook
and Twitter
@Foodtopia
.
April 28, 2010