Asheville's Shindig on the Green Celebrates 50 Years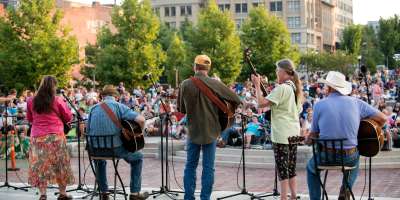 Saturday evening jams run July 2nd through Labor Day
As a young college student at UNC-Asheville, Jerry Sutton eagerly headed downtown during the summer for a mountain music experience unlike any other.
Bluegrass, old-time, and folk musicians picked, strummed, and jammed in Pack Square Park. Square dancers and cloggers stepped to the beat. It was the beginning of a free outdoor concert series known as Shindig on the Green.
"There used to be a large rock near the city building. They started it there and that's where the bands would play," Sutton said. "I just remembered the excitement of listening to live string band music and it just drew me in."
After being drawn in as a spectator, Sutton transformed into a performer just a few years later, picking the banjo alongside his father playing the fiddle.
"By that time, they had a proper stage built and a growing audience," Sutton said.
The audience has only continued to grow as Shindig on the Green prepares for its 50th anniversary season. Sutton now serves on the all-volunteer Folk Heritage Committee which raises money to host the event each year.
This summer's series kicks off July 2nd and features eight Saturday evenings of performances through September 3rd. The show starts at 7 p.m., or "along about sundown" as folks around here like to say. 
"To keep this tradition ongoing shows you that this is something ingrained in our community that will continue," said Carol Petersen, who also serves on the Folk Heritage Committee.
Shindig began as an unorganized "after-party" of sorts that would follow the Mountain Dance and Folk Festival, which—now in its 89th year—is the longest running festival of its kind in the nation.
Organizers have worked to maintain that tradition, allowing for a magical lineup of impromptu jam sessions. Volunteers roam the green listening to musicians, searching for dancers who they can tap for an on stage performance.
People toting blankets and picnic baskets sometimes stake out spots as early as 4:30 a.m. so they don't miss any of the surprises, Peterson said.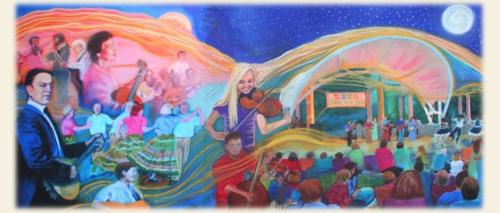 To honor the history of Shindig, the Folk Heritage Committee in April unveiled a vibrant mural tribute by artist Doreyl Ammons Cain that's been installed on the side of Pack's Tavern. On this season's opening night, organizers will host a ribbon cutting to reveal a commemorative marker, recognizing the festival's historical significance.
"We have great history but we feel good about the future too," Peterson said.
The future looks bright as an infusion of young musicians and dancers are bridging the gap, helping to promote and preserve mountain music.
Jerry Sutton's family is a prime example. Sutton helped encourage his son, Bryan Sutton, to perform at Shindig en route to his career as a Grammy-award winning acoustic guitarist. Jerry Sutton also helped inspire his daughter, Leesa Brandon, to showcase her talent.
Now, Leesa's young daughter, Bailee, has begun to play fiddle at the event. She marks the fourth generation, and counting, of Suttons to celebrate the tradition of Shindig in Asheville.  
"It's very satisfying to know your family has been a part of it for that period of time and you know you feel sort of an investment in the whole process," Sutton said. "A lot of this traditional music has stood the test of time and it's just good to see kids buy into that and play music that is going to be around for years to come."
Check out our guide to Shindig on the Green.
"Golden Threads" mural by Doreyl Ammons Cain, courtesy of the Folk Heritage Committee.