On The Rise: Asheville's Modern Appalachian Culinary Scene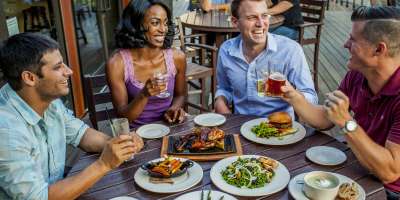 Appalachian food was born in the Blue Ridge Mountains, but today Asheville, North Carolina food folk are claiming, examining and elevating their culinary roots in new and creative ways.
Bagels using sorghum syrup and Southern flour, a gourmet twist on the regional-favorite Moon Pie, a restaurant honoring African-American influence on the area's cuisine and a food festival bringing together farmers, makers and artisans – this summer and fall, Asheville's modern Appalachian food scene offers a bounty of fresh experiences for culinary travelers.
Here are some new and classic ways to explore food in modern Appalachia, distinguished by its heirloom ingredients, focus on what is in season and creative techniques born of mountain living:
Chow Chow: New Culinary Event Celebrates Appalachia
Led by many of Asheville's James Beard chefs, along with area culinary and artisan scene titans, Chow Chow: An Asheville Culinary Event (Sept. 12-15) will celebrate the Appalachian chefs, farmers and makers who are the foundation of the region's culinary identity.
The new festival, named after the traditional Appalachian relish, includes over two dozen signature events such as an "Appalachian Soul Food" walking tour, foraged feasts, pottery-making workshops and appearances by many notable national and Southern chefs.
For example, James Beard chef Meherwan Irani (owner of Chai Pani, MG Road and Buxton Hall Barbecue in Asheville) will bring the latest installment of his collaborative dinner series that features celebrated Indian chefs, "Brown in the South," to the festival.
Chow Chow joins a lineup of food festivals in Asheville like Asheville Bread Festival (April), Carolina Mountain Cheese Fest (April), Asheville Herb Festival (May), Asheville Beer Week (May 24-June 1), Asheville VeganFest (June 9) and CiderFest (Oct. 12).
Learn more about the past and present of Appalachian food in Asheville here.
Restaurant News: Chefs Stake Claim to Culinary & Creative Roots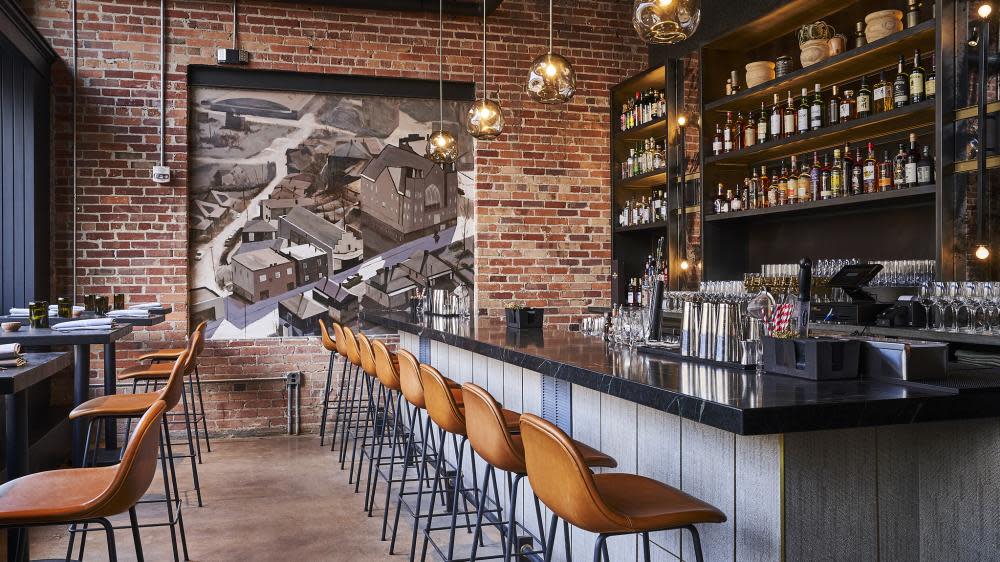 Photo of Benne on Eagle by Johnny Autry.
Chef Pays Homage to Historic Neighborhood: With dishes like braised rabbit, fried catfish and waffles and crispy quail with hot water cornbread, five-time James Beard semifinalist Chef John Fleer's newest venture Benne on Eagle at the Asheville Foundry Hotel pays homage to its historic Eagle Street neighborhood and the often-overlooked contributions of African-American cooks to Appalachian and Southern food. Chef de Cuisine Ashleigh Shanti, 29-year-old chef and certified sommelier just named one of Eater's "Young Guns of 2019," has worked at some of the world's best restaurants, while Culinary Mentor Hanan Shabazz co-owned and operated a soul food restaurant in the neighborhood in the late 1960s.
Appalachian-Inspired Bagels: Coming off the honor of having Food & Wine name Cúrate as one of the "40 Most Important Restaurants of the Past 40 Years" and a current finalist for "Best Chef Southeast" from the James Beard Foundation, Chef Katie Button has opened Button & Co. Bagels, an Appalachian-inspired bagel and sandwich shop. The shop uses sorghum syrup, made from a grass grown in North Carolina, and combines the Northern flour typically used in bagels with a local Asheville-made Southern variety.
Restaurant Honors America's Oldest Alcoholic Beverage: Chef Gavin Baker, formerly at a Michelin-starred British restaurant, joins his brother and sister-in-law, Noble Cider co-owners Trevor and Joanna Baker, for Noble's new bar and modern-American restaurant The Greenhouse. The concept will feature craft cocktails highlighting locally made cider, a charcoal oven that utilizes wood from the orchard and a menu featuring local beef fed apple mash from the cider-making process. North Carolina ranks seventh in the nation in apple production.
Food Scene Godfather: Asheville's first James Beard semifinalist and owner of Table restaurant, Chef Jacob Sessoms has reopened his beloved Montford neighborhood diner (formerly Tod's Tasties) under the new name, All Day Darling, with a healthier concept and a few old favorites.
Powerhouse Brewery Partners With Notable Chef: Chef Jacob Sessoms is also opening Cultura this spring with the folks behind Wicked Weed Brewing. The menu will feature large-format, wood-roasted shareable meat entrees and a pizza variety using dough fermented with the brewery's house yeast.
City-Themed Fried Chicken: Henrietta's Poultry Shoppe, a new venture from the owners of the Asheville-original White Duck Taco, offers city-themed chicken sandwiches like Nashville hot chicken, an Asheville sandwich with local honey and apple slaw and the Charleston with country ham, fried egg and pimento cheese.
More highlights in Asheville's Appalachian culinary scene: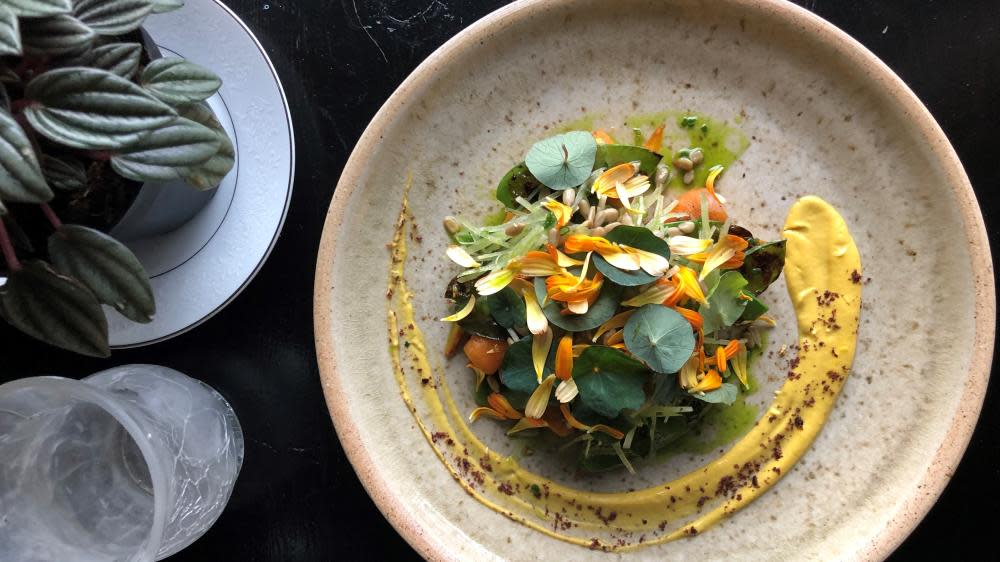 Photo courtesy of Sovereign Remedies.
Appalachian, Cherokee, wild edible and herbalist traditions are utilized in the root-to-stem bar-turned-restaurant, Sovereign Remedies. Chef Graham House's food creativity comes from his experiences in Appalachia as a child, blended with global travels. The results are a modern touch on local ingredients, a close connection to rising-star farmers like The Culinary Gardener and staff foraging trips.
For creative interpretations of regional food and lost food traditions, head over to AUX Bar from Chefs Mike Moore and Steven Goff. Think country ham, vinegar pie and an extensive pickling and preserving program.
The Market Place, a farm-to-table Asheville original for 40 years, offers an "Outstanding in the Field"-style farm dinner at Gaining Ground Farm, June 28, with field cooking over a wood fire, a five-course meal and all proceeds benefiting the Appalachian Sustainable Agriculture Project.
Local Sweet Treats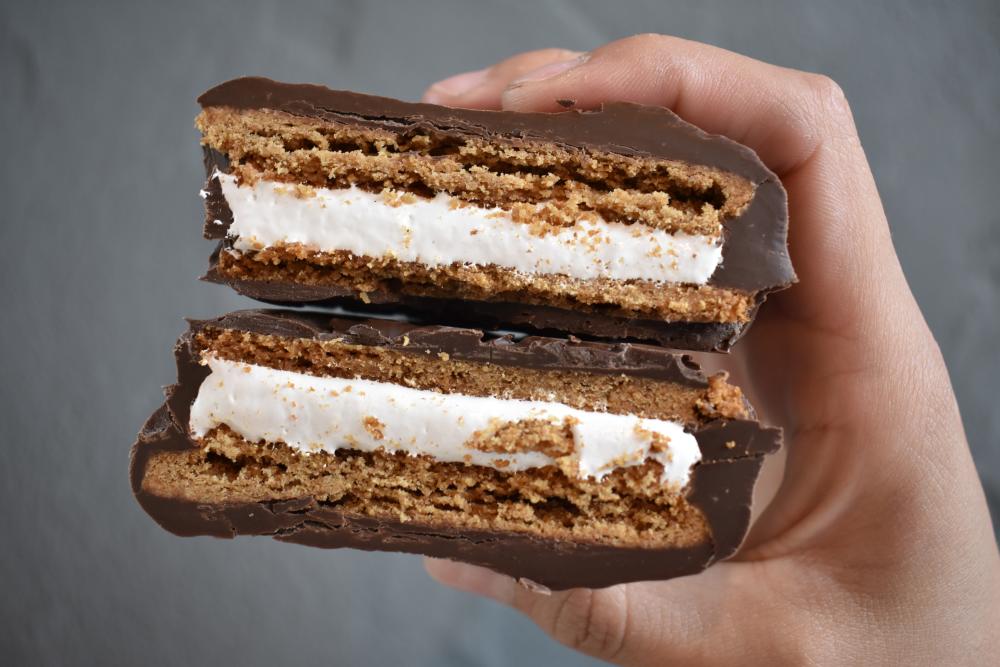 Photo courtesy of Sunshine Sammies.
Famed Chocolatiers Turn to Ice Cream: After moving their bean-to-bar factory to RAMP (River Arts Makers Place) Studios (check out the chocolate museum and daily tours), French Broad Chocolates has now opened Cookies & Creamery in their former South Slope factory location. Think specialty sundaes topped with truffles, local beer ice cream floats and ingredients fresh from the mountainsides folded into soft serve.
Gourmet Take on a Regional Favorite: Ice cream makers Sunshine Sammies now also focuses on classic lunchbox treats like astro brownies, oatmeal cream pies and unicorn cakes, working with local farms to make all-natural versions. The company's lunar pie, a take on the regional-favorite Moon Pie that originated in Tennessee, has house-made graham crackers and scratch-made marshmallow fluff dipped in dark chocolate.
Beyond Room Service: New Culinary-Centric Places to Stay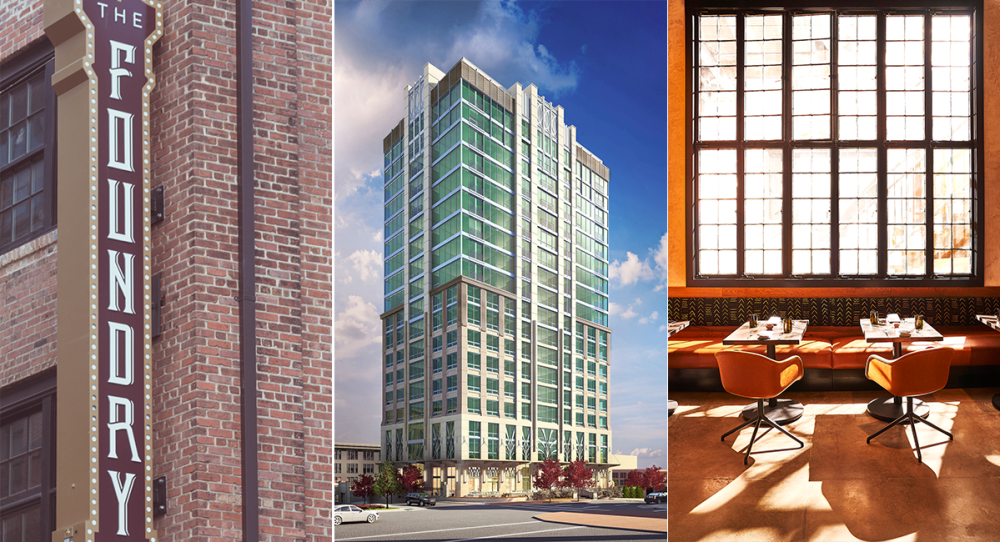 Foundry Hotel Sign courtesy of The Foundry Hotel, a Curio Collection by Hilton property, Hotel Arras courtesy of McKibbon Hospitality, Benne on Eagle by Johnny Autry.
The Asheville Foundry Hotel, part of Hilton's Curio Collection, recently opened in the city's historical African-American business district known as "The Block." The Eagle Street buildings were also once home to the foundry that forged the steel for Biltmore Estate and many other iconic Asheville buildings. In addition to new restaurant Benne on Eagle, the hotel also offers an in-room dining menu from James Beard chef John Fleer and the Workshop Lounge, a sophisticated bar with live music.
Hotel Arras Brings Two Restaurants: Asheville's famed Art Deco skyline will get a new icon and four-star luxury property when Hotel Arras opens this summer. In addition to a completely new Art Deco façade for Asheville's tallest building, the 128-room hotel will offer an extensive food focus with two restaurants by local chef Peter Pollay of Posana. Bargello will be a Mediterranean-inspired restaurant with hand-made pastas, oven-fired pizzas and large-format meats meant to be shared like roasted rack of lamb and heritage pork shoulder. The second space, District 42, will be a more casual spot with outdoor seating, small bites and hand-crafted cocktails.
Picnic Packages: The Grand Bohemian Asheville and the AC Hotel Asheville Downtown both offer picnic-themed travel packages with farm-to-table fare to make the best out of a drive on the Blue Ridge Parkway or a hike in the area's 1 million acres of protected wilderness. More travel packages.

Chef John Fleer's The Rhu also offers custom picnics with offerings like seasonal vegetable crudité or fruit bars, local meats and cheeses, house-pickled vegetables and local apple cider.
Beverage Culture: New Brews & More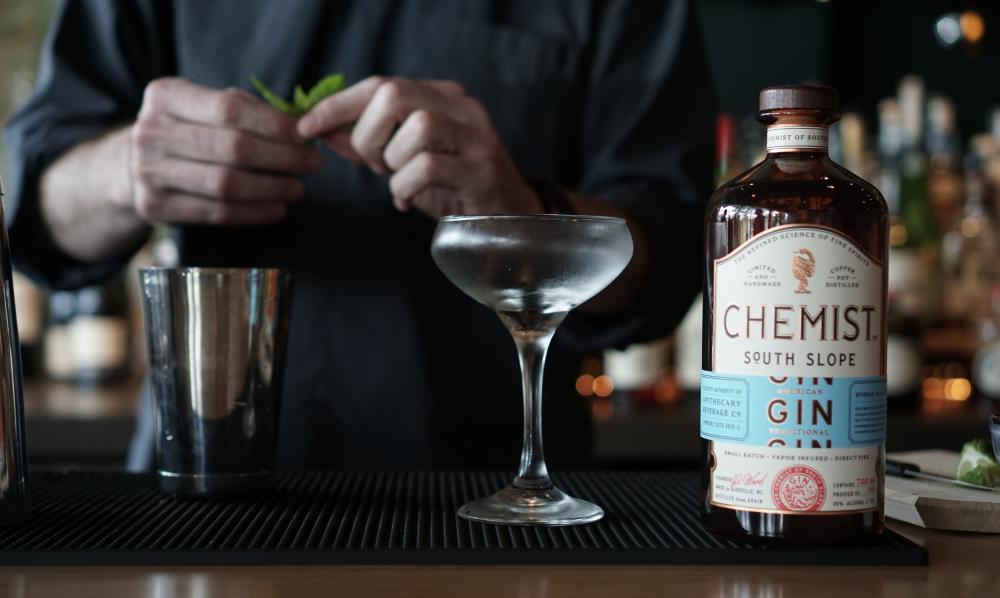 Photo courtesy of The Chemist.
Mountain Botanicals: Part of Asheville's recent craft-spirit boom, The Chemist is a South Slope gin distillery with a tasting room outfitted as a Prohibition-era apothecary. The makers use hand-selected botanicals from the nearby Appalachian hillsides. An adjoining cocktail bar, Antidote, offers pre-Prohibition cocktails, new drink classics and a small-plate menu. Check out their Botanical Bar this summer with cocktail-friendly plant beds.
The Other Craft Brew: With tea blending workshops, partnerships with local businesses (think ice cream shops, hemp farms and spas) and a storefront in West Asheville, Asheville Tea Company continues to expand. The company uses fresh botanicals from local farms and yaupon, North America's only native tea plant and the only edible caffeinated plant indigenous to the Southeast.
More Than Moonshine - Appalachian Distilling: Appalachia's biodiversity and micro-habitats are home to some 2,500 plant species, nearly half with medicinal properties. Eda Rhyne Distillery is crafting their own versions of traditional herbal liquors and fine spirits including Appalachian Fernet, Amaro Flora and Rustic Nocino. Next up is Amaro Oscura made with rhubarb root and a blend of plants that blossom or fruit in the fall. Coming this fall, Eda Rhyne's rye whiskey will utilize two rare regional grains that have likely not been used in commercial distillation for 125 years, if ever.
Forestry Camp Brewery Celebrates Local Makers: Set in the buildings that once housed young forestry workers of the Civilian Conservation Corps, Burial Beer Co.'s Forestry Camp Restaurant and Bar will open soon, offering beer, wine and coffee and highlighting local makers, from bakers to artists to musicians. James Beard semifinalist Brian Canipelli, chef and owner of Cucina 24, leads the food program.
BBQ Brews: 12 Bones Smokehouse's NEW South Asheville restaurant will also soon have a brewery, serving up barbecue-friendly brews and offering ample seating for the ultra-popular, President Obama-approved restaurant.
Appalachian Beer: Many area breweries also source ingredients from the surrounding hillsides. Zebulon Artisan Ales uses a local small-batch sorghum syrup in their Appalachian/Belgian Dark Quad, as well as locally foraged spicebush branches, leaves and berries in their Experimental Forest #2. Turgua Brewing Co., in the nearby rolling farmland of Fairview, grows ingredients onsite and works with local farmers to source paw-paws and sour cherries for its brews.
Experiences & Tours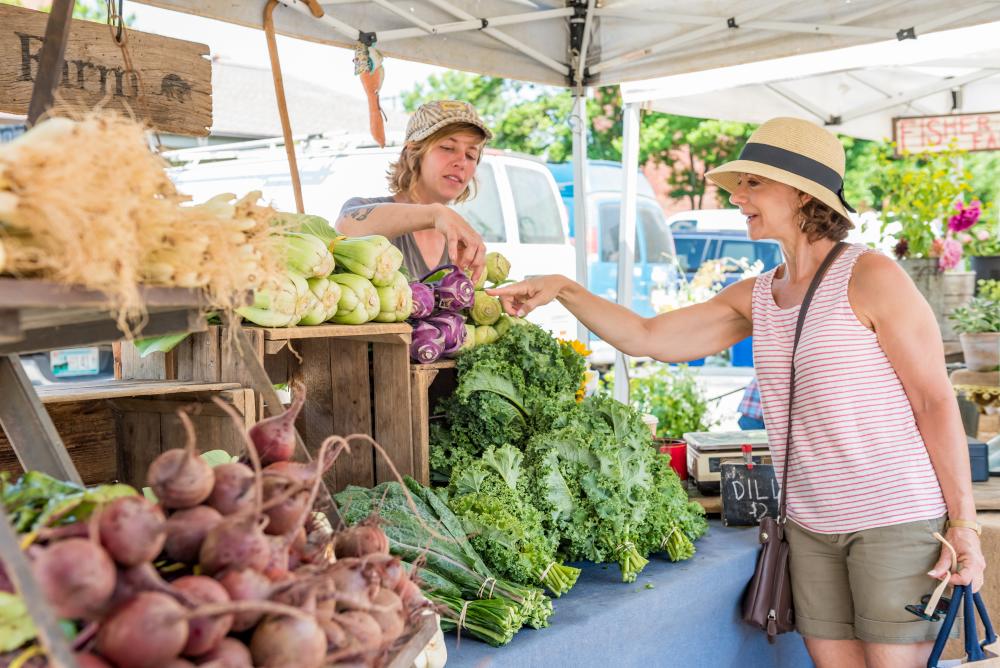 Photo by Emily Chaplin, C2 Photography.
There are several food tours, farm adventures and hands-on immersions that allow visitors a taste of Asheville's food scene. George Vanderbilt's farming legacy at Biltmore can be explored via a farm segway tour, English tea service at the Inn on Biltmore, a stop at America's Most Visited Winery or a meal at one of the Estate's many restaurants serving their own pasture-raised meats and produce. Visit one of the area's 14 tailgate markets (what locals call open-air farmers markets) to hunt for your own seasonal fare or explore one of the 1,000+ family farms on your own or via a guided farm tour – don't miss stops along the Western North Carolina Cheese Trail. Food tours focus on Asheville's 250+ independent restaurants and blend stops at notable restaurants and under-the-radar rising stars, while foraging tours take folks on a "find dining" experience in the fields and forests surrounding the city. Have a witchy side? Take a class on wildcrafting or herbal medicine-making from a local expert.
Updated April 18, 2023