Asheville's James Beard Connections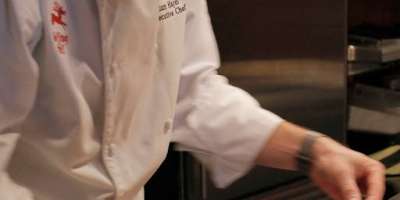 Asheville Chefs Put Foodtopia in the Spotlight.
Chef Adam Hayes
There are big honors happening for two Asheville chefs this week. Both Adam Hayes of the Red Stag Grill and Willam Dissen from The Market Place are in New York for separate events at the James Beard Foundation. 
Adam Hayes, Red Stag Grill
Chef Hayes is currently in New York City preparing a five course meal at the James Beard House. To be invited to this event is a feat in itself, and something Hayes has been working towards ever since the Red Stag Grill opened in Biltmore Village a few years back. The menu pays homage to North Carolina cuisine and will 
include southern staples like fried green tomatoes with goat cheese, fried chicken with grits, and apple pie. Each course will be paired with a regional drink including Biltmore wine, beer from Wicked Weed Brewery and Noble hard cider.
Chef William Dissen
William Dissen, The Market Place
Chef Dissen is also in New York attending the James Beard Foundation Chef's Boot Camp. He is one of a only a handful of chefs chosen from around the country to attend this prestigious event. Dissen will be representing Western N.C., while discussing food trends and policies.
"I'll want to focus on local examples here in Asheville like the Appalachian Sustainable Agriculture Project, Growing Minds, & Rainbow in My Tummy programs that help promote fresh, healthy food to communities and to educate our youth about the importance of eating well and nourishing our communities with good food," said Dissen.
September 16, 2013