Asheville's Drum Circle Gets New Drums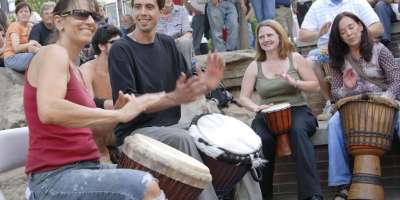 Join the Asheville Drum Circle on Friday, May 22, at 7 p.m. as the Asheville Downtown Association presents drums and accessories to this musical group.

The donated drums will be available to drum circle participants and passersby who want to join the fun. The gifts include a large 55-gallon bass drum, called the dun dun, two djembes, an ashiko, a cowbell, three sets of claves and three shakers.

The Asheville Drum Circle is a regular event on Friday nights at Pritchard Park in downtown. The event usually includes dozens of drummers and hundreds of spectators.

"We're really grateful for the support of the Asheville Downtown Association and downtown businesses. This donation gives people who come without an instrument a way to connect to the group," says Larry McDowell, one of the event's organizers involved with the drum circle since its beginning in 2001.
May 21, 2009