Asheville's Community Comes Together to Support Ukraine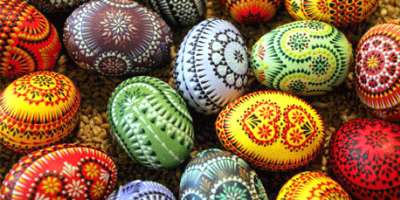 Local Businesses, Artists and Breweries Raise Money for Victims of Ukraine Crisis
For years, Asheville's community has come together in times of crisis to support one another – locally, nationally and abroad. It is this focus on togetherness and collaboration that demonstrates how Asheville continues to overcome challenges. Once again, Asheville is leaning on its creative spirit to lift up those in need.
In an effort to support those effected by the Ukrainian war, Asheville area small businesses, artists and local organizations are teaming up and offering their generosity to help raise funds for Ukrainian aid. As you visit the Asheville area, check some of these fundraising opportunities for victims effected by the Ukrainian war.
Benefit Concert
The Weaverville Community Center at Lake Louise will host a benefit concert for Ukraine on Friday, May 27 at 6:30 p.m. to 9 p.m. The benefit will include refreshments, a silent auction and live music. Proceeds will benefit the Ukrainian National Women's League of America. 
Purchase with a Purpose
Asheville-based Spiritex sustainable fabrics and retail store is selling limited release pro-Ukraine graphic tees at its downtown Asheville store and online.  All proceeds will be donated to Global Giving's Ukraine Crisis Relief Fund.
Honey Cake for Ukraine
Serve up some sweetness for Ukrainians by purchasing a honey cake - also known as medovik - for various Ukrainian victims. Spearheaded by OWL's Lola Borovyk, who moved from Ukraine to the U.S. when she was 11 years old, participants can purchase whole cakes or slices (based on availability and 100% of its proceeds to a number of organizations. Follow Borovyk on Instagram for updates. 
#StandwithUkraine Container Project
Asheville-based artist Randy Shull has created a new public artwork that honors the blue and yellow colors of the Ukrainian flag. Located across from Pink Dog Creative in the River Arts District, the "Container Project" is two stacked shipping containers that features a rotating message or mural expressing something impacting the Asheville community. Shull's newest display showcases the unity and respect for Asheville's Ukrainian families. People are encouraged to take pictures in front of the artwork and post on social media with the hashtag #StandwithUkraine. There is also information posted on the artwork on ways to help Ukraine.
Art by Andrea - Ukrainian Stickers, Eggs
Ukrainian artist Andrea Kulish Wilhelm is selling customized "Stand with Ukraine" stickers, as well as her famous Pysanky eggs and Pysanky egg stickers to benefit Ukrainians caught in the conflict. Pysanky eggs are Ukrainian Easter eggs decorated using beeswax and dyes. One hundred percent of the proceeds from the stickers and Pysanky eggs made by her students and 50% of the proceeds from Pysanky eggs made by Kulish Wilhelm herself will go toward the Ukrainian National Women's League of America's humanitarian aid fund. The fundraiser will last through March. 
Kulish Wilhelm is a first-generation Ukrainian American. She said she spoke only Ukrainian until she was about 3 years old. Visit her studio at Pink Dog Creative Studio A in the River Arts District. .