Asheville's Cheesiest Festival... Really!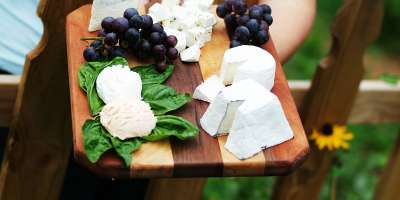 Carolina Mountain Cheese Fest Returns
​Western North Carolina has many signature flavors. Southern foods, barbecue, craft beer - the list goes on. This April, celebrate one of the region's emerging tastes--local cheese! Carolina Mountain Cheese Fest will be held April 24th at Highland Brewing Company and will celebrate Southern cheeses, exploring the whole process from field or farm to your dinner plate.

This hands-on party promises cheesy fun for all ages, including:
Goat milking demonstrations with a local herd manager.
The Mac & Cheese Challenge, where Asheville's top chefs will battle it out in this sMACdown competition,
Mozzarella stretching demonstrations, plus tips for making your own at home.
Wine and beer pairing sessions featuring Carolina cheeses and Highland brews.
Educational sessions for cheesemakers.
Tips and tricks for building a better cheese plate.
Plus, festival attendees will also have the opportunity to meet 25 local and regional cheesemakers and food artisans, sample their cheese and purchase favorites to take home. Tickets can be purchased on the festival's website. Carolina Mountain Cheese Fest is hosted by the WNC Cheese Trail, a self-guided tour of a dozen area cheesemakers plus restaurants, markets and other farm stores.

Get a taste of more foodie adventures in Asheville.