Asheville's "Amazing Race"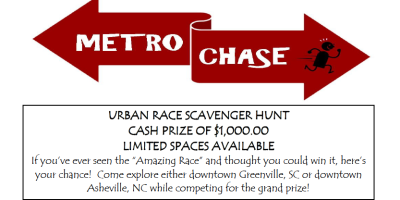 Urban Scavenger Hunt in Asheville Offers Large Cash Prize
Pine Mountain Adventures is awarding a $1,000 cash prize to the winner of their
Metro Chase Urban Scavenger Hunt
through
downtown Asheville
on Saturday, March 24, 2012.
Teams of two will compete in an Amazing-Race-style scavenger hunt across the city to win the main cash prize. There are also prizes for the second and third place teams as well as a prize for best costume.
The cost to enter is $100 per team for early registration and $120 the week of the race. Ages 13 and up are welcome to participate, however one team member must be 18 or older.
Register here!
March 14, 2012