Asheville's 2013 Fall Color Forecast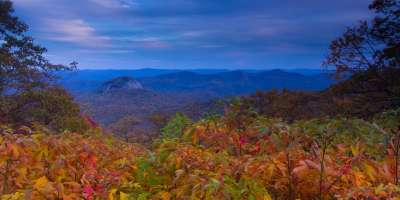 WATCH: Fall Color Guy Weighs In On This Year's Fall Color Outlook for Asheville.
The tell-tale signs of fall in the mountains have begun. As the days continue to grow shorter and the nights get cooler, leaves will begin their annual transition to autumn hues. The beautiful blanket of color begins in the higher elevations surrounding Asheville starting in September, and crawls down the mountains through early November. This progression of color down the elevations provides the Asheville area with one of the longest leaf seasons in the country. 
See: Fall Fun in Asheville
2013 Color Prediction
What will this year bring in terms of brilliant fall color, and how will the rain from this year impact the foliage? We asked Howie Neufeld, Professor of Plant Ecophysiology at Appalachian State University, for his insight into what conditions are needed to create a bright and beautiful fall color season for the mountains.
"This year a lot of people have asked about what will happen to fall color because it's been such a rainy summer," said Neufeld. "I think that if it gets sunny and cool starting now, August, and continues on through September - with a majority of the days sunny, and not so much rainy, that we could still have good fall color."
Watch the video above for the full report.
Tactics For Successful Fall Color Hunting in Asheville
The fall season is one of the most popular times of year for Asheville. Here are some tried and true tactics to ensure you get a seat for the big show.
Book your room reservation in advance, and book early. Hotels fill up quickly so it's best not to wait until the last minute.
Travel mid-week. The weekends were made for travel, but you'll find more lodging options from Sunday through Thursday each week. Plus, popular leaf peeping activities like the Blue Ridge Parkway won't be as congested.
Stay updated. Starting in October, you can get weekly fall color reports detailing where you can find the best autumn hues that week.

  

Also see: Find a room during fall foliage. 
Need Travel Ideas? Leaf it to us
There are a lot of ways to experience the fall color season in Asheville. Here are some popular ways to get outside and enjoy fall in the mountains.
Visit and Bookmark Fall in the Mountains for more ideas on the best fall hikes, drives and adventures around Asheville.
September 3, 2013