AshevilleNOC Begins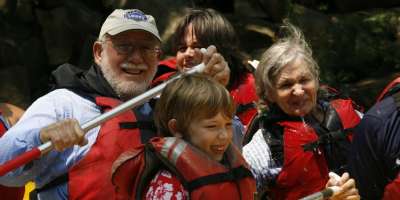 Grove Park Inn and Nantahala Outdoor Center Celebrate Grand Opening.
The Nantahala Outdoor Center's, AshevilleNOC, a new adventure outpost located inside the Grove Park Inn Resort and Spa, will celebrate it's grand opening this Wednesday, March 21, 2012. Guests will be able to book outdoor adventures and purchase gear from the NOC store while staying at the famed resort. Learn more about what they have to offer here. 
The AshevilleNOC is hosting two learning sessions from world explorer, Andrew Skurka, this Wednesday and Thursday at The 
Grove Park Inn
. Known for blazing new trails across the American frontier, Skurka was designated a 
National Geographic Adventurer of the Year
and
Outdoor Magazine Adventurer of the Year
. He has trekked the entire 
Appalachian Trail
, hiked from the Atlantic Coast to the Pacific Coast (8,000 miles!) and completed the Alaskan-Yukon expedition.
Admission to the presentation is $5 for ages 12+ and free for ages 0-11. All proceeds from admission will benefit the Blue Ridge Parkway Association. Doors open at 7PM.


Learn the basics of whitewater kayaking:
Nantahala Outdoor Center's world-class instructors will be conducting a whitewater kayaking course at The Grove Park Inn.  Rated "The Nation's Premier Paddling School" by New York Times, NOC's team of instructors will show you the ropes, whether this is your first time in a kayak or your hundredth. Instructors from NOC, the paddlesports industry leader for over 40 years, will teach you about appropriate gear, paddling techniques, safety, wet exits and more.
The course is taught every Thursday from 7:30-9:30 pm at The Grove Park Inn's Sports and Fitness Complex. This state-of-the-art indoor pool offers a safe and controlled environment for learning and practicing new skills with your instructors.  Ages 10 and up. $40 per person includes 2 hours of instruction and all necessary gear.  For attendees age 10-13, a parent must stay on premises. Reservations can be made by calling the Sports Complex at extension 1046, calling 800.232.7238 or visiting the NOC Asheville store located in the Sammons Wing of The Grove Park Inn.
March 20, 2012