Asheville Unveils New Wayfinding Signs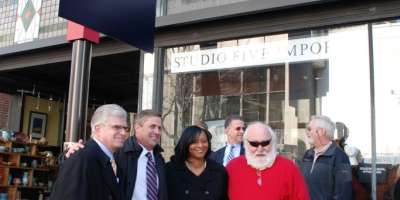 Navigating around Asheville and the surrounding areas just got easier. On Monday, the Buncombe Country Tourism Development Authority (BCTDA) unveiled the first wayfinding sign on Patton Avenue in downtown Asheville. The $1.65 million community-wide signage program is designed to help visitors and residents find their way to nearly 90 attractions, public spaces, historic sites and destination.

The signs feature unique design elements. The vehicular signs boast finials from local artisans Kathleen Doyle and Thomas Reardon of Portfolio Metalwork, Dan Howachyn of Black Mountain Iron Works and Robert Gardner of Studio C Glassworks. The backs of the signs feature quotes from 14 Western North Carolina authors.

More than 300 sign elements will be installed throughout Buncombe County in the coming months. The project is slated for completion in mid-February or early March.
December 15, 2009