Asheville on CBS This Morning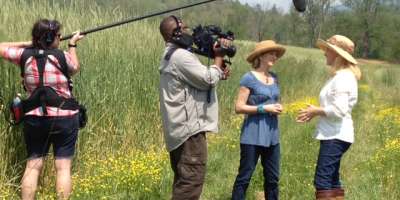 CBS This Morning Spotlights Asheville's Burgeoning Moonshine Scene.
Tune in to CBS This Morning tomorrow, Thursday, June 7, from 7:00 - 9:00 AM for a special feature on Asheville's moonshine legacy as well as the craft distillery industry in North Carolina.
Lee Woodruff, a features correspondant for the popular morning show, visited with Troy Ball, the nation's first female corn whisky/moonshine distiller. During Woodruff's visit, they toured the McEntire farm where the rare heirloom corn used in Ball's moonshine has been grown for generations. Plus they visited Curate, one of Asheville's hottest eateries for a mixology lesson in moonshine cocktails. Look for them all tomorrow morning!
Here are some behind the scenes shots from Woodruff's recent visit. 
June 6, 2012