Asheville Olympian Brings Home the Silver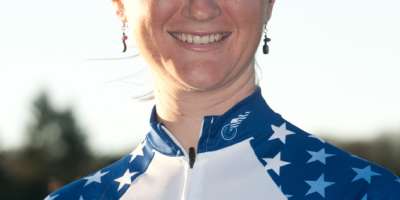 Asheville Cyclist Lauren Tamayo wins Olympic Silver.
There's an Olympic medalist in our midst! Asheville resident, Lauren Tamayo, brought home the silver medal in cycling during the 2012 Summer Olympics in London. Congratulations Lauren!
When Lauren Tamayo started cycling, her goals were similar to those of anyone else who takes to the road or track. Work hard. Be committed to yourself and teammates. Never give up. Do all of that, and maybe you'll find yourself standing on a podium during the Olympics with a medal around your neck. 
That happened to Tamayo, Dotsie Bausch and Sarah Hammer, who represented the United States in the gold medal team pursuit race against Great Britain on Saturday in an electrified atmosphere at the Velodrome. 
The national anthem being played was "God Save the Queen," not the "Star Spangled Banner," but that didn't matter. Only three medals are awarded in each sport, and the silver hanging around Tamayo's neck looked spectacular. 
"Every girl always says they want to go to the Olympics and win a medal," Tamayo said about 45 minutes after her first and last Olympic experience. "But to actually do it is a totally different feeling. It's amazing. I don't think I could top this." 
August 15, 2012