Asheville Historic Trolley Tours Offers Expanded Tour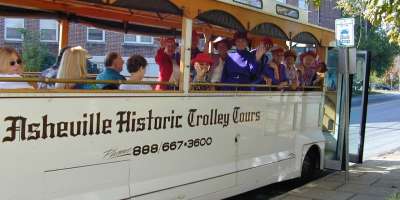 Asheville Historic Trolley Tours, Asheville's original, locally owned trolley tour service, is pleased to announce that it is now offering an expanded version of its top rated trolley tour of the City of Asheville. This expanded tour will now incorporate several historically significant sites, including:

A new stop at the Smith-McDowell House Museum

, a site that tells the story of Asheville's oldest brick home, circa 1840's. Over the years it has been a home to a Major in the Confederate Army, a millionaire land developer, a Brigadier General who fought Indians beside General Custer, a Washington, D.C. socialite, a doctor who had a golf handicap of 4, a millionaire playboy, and students from the Catholic school Gibbons Hall.




The AB Tech Campus

is a two year community college with several nationally recognized programs of study.




The Fernihurst home

, the magnificent Italianate-style residence built by Colonel John Kerr Connally in 1875. This beautifully restored structure is now the home of AB Tech's nationally recognized culinary arts program. The site of the home commands an amazing view of the Pisgah Mountains, a vista that was originally desired for the Biltmore House, but one that even George Vanderbilt couldn't procure.




The Sunnicrest structure

is the last intact structure of five luxury residences originally built by George Vanderbilt in the 1890's, and designed by Richard Sharp Smith (the supervising architect at Biltmore) for "overflow" guests from the Biltmore Estate.
The Smith-McDowell House, Fernihurst, and Sunnicrest are among the most historically significant buildings in the City of Asheville and are welcome additions to this historic trolley tour.

Learn more by visiting our Asheville Historic Trolley Tours page.
September 29, 2010