Asheville Foodspotting: The Prince of Pigs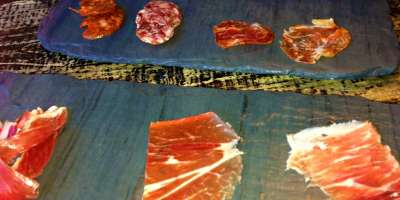 Why Iberian Pork is About to Become America's New Obsession.
A sampling of Spanish charcuterie available at Cúrate.
Charcuterie lovers in the United States have long-savored the flavors of Prosciutto from Italy and Germany's Black Forest ham, but when it comes to cured meats, there's a new pig taking America's culinary scene by storm. It's called Jamón Ibérico, a premiere delicacy procured from Spain, and until recently it wasn't available in the states. A lean and marbled tenderloin, the Iberian pig packs a nutty flavor and is widely considered to be the "Rolls Royce of ham."
Happy Pigs
The Iberian Black-footed pigs are indigenous to Spain, and to be considered a true Iberian ham, strict guidelines must be followed. The animals must be raised free-range, with each pig receiving three acres of personal space to roam (hence the title "happy pigs"). They feed primarily on 14 varieties of acorns, which provide that nutty flavor. The exercise they gain from roaming the fields, plus the specialty diet give the ham amazing texture and taste. To ensure purity, a final selection process takes place where only the finest pigs are chosen.
"It's the Kobe Beef of pork," explained Félix Meana, a former employee of elBulli who moved to Asheville to help develop the concept of Cúrate. Felix attributes the success of the Iberian pig to Ferran Adria, considered to be one of the world's foremost chefs. "Ferran exposed the world to embutidos (Spanish sausages)."
Located in downtown Asheville, Cúrate serves a wide variety of authentic Spanish meats, including Chorizo, Jamón Serrano Fermin (a dry cured ham), and Jamón Ibérico de Bellota (100% Iberian acorn-fed pig). And while it's not considered charcuterie, you would be doing yourself a disservice by not ordering the Pluma Ibérica a las Finas Hierbas - grilled Ibérico infused with rosemary and thyme.
Felix Meana
"Push the ham to the top of your palate and hold there to let the fat melt," suggested Felix. "This is the best way to taste the true flavor." He recommends pairing a charcuterie dish with a nice dark Andulusian Sherry.
Get a taste of authentic Spanish cuisine at Curate during Asheville's Restaurant Week, happening February 1-7.
January 25, 2013