Asheville Celebrates It's Vaudeville Spirit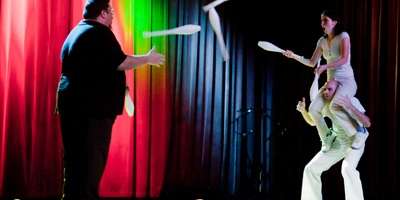 The American Burlesque & Sideshow Festival (ABSfest) celebrates in fifth year in the heart of Asheville. Long known for it's dynamic street performances, unique Vaudeville tour group LaZoom and a number of festivals celebrating the bohemian spirit, Asheville has become well accomplished at delightfully surprising visitors to the town.
Want to attend this year's festival? Here's a schedule of events.
Frid

ay Night Red Carpet Gala Opening Ceremonies
$15.00. 9pm. Afterparty at 11pm $5. BeBe Theatre, 20 Commerce Street. The theater bus pulls up, the glittering artists disembark, tumbling along the Red Carpet in a swirl of laughter, and the party starts. This is just the beginning of a three-run of debauchery and high art... a teaser, if you will. The Opening Ceremonies will be hosted this year by Philadelphia's comedy storytelling duo, Sidetracked, and are followed by awards, performance, live music, appetizers and more.
www.acdt.org

Saturday Spectacular
$25.00. Show 8-11pm. Afterparty with the band at 11pm $5. The Orange Peel on Biltmore Avenue, Asheville. The newly expanded Orange Peel gives the festival more footage for festivity, as the hottest show of the year explodes within its walls. Hosted by international impresario Armitage Shanks, phenomenal talent, a Burlesque Bazaar, and the sidewalk sideshow will be followed by live music and an afterparty. This is the show to never, ever miss in Asheville. www.theorangepeel.net



Sunday Sideshow Brunch: this year with Retro-Robotics theme!
$5. 11am-1pm. Arcade Asheville, 130 College Street.
Starring DC's own Cheeky Monkey Sideshow and friends, this event offers an idyllic cure for the end-of-ABSfest blues; great hang-over food, affordable drinks, networking opportunities galore, and more wickedly delightful entertainment. The Arcade is a groovy, two-story palace of vintage video games, such as Tron, Galaga and more, with a gorgeous courtyard, Wii and more. http://www.facebook.com/profile.php?id=100001312055182
A full list of workshop descriptions and times can be found here.
June 3, 2011