Asheville Ballet's New Season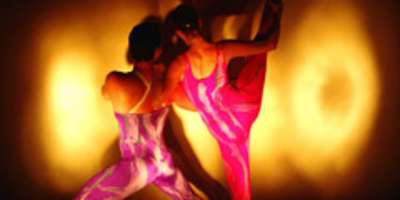 Opening Production Combines Classical with Rock 'n Roll
The Asheville Ballet opens its 2010-2011 Season with a double bill: the pure white classical ballet "Les Sylphides" set to Chopin's beautiful music, and "Free Fall," a world premier set to the music of the Chapel Hill Post-Rock band, Kangaroo, who will perform live on stage. Performances are at Diana Wortham Theatre, with curtain times of 7:30 p.m. on Saturday, Oct 2 and 2:30 p.m. on Sunday, October 3.
"Les Sylphides,"
choreographed by Michael Fokine for the impresario Dhiagilev, premiered in 1908. The ballet is a lyrical contemplation on the essence of ballet itself – separated from story. There is no plot, just twenty-five minutes of breathtaking beauty. The version, in the tradition of evolutionary performance art, celebrates the original choreography while highlighting the strengths of The Asheville Ballet's own soloists: Lyle Laney, Allison Hertzberg, Fleming Lomax and Lisa Leithman. Featured roles also go to senior teens Conner Hall and Athaya Sriskul, our exchange student from Thailand.
"Free Fall."
What to say? You will be out of your seat. Your children will love it. This is dance that never stops, but also engages all your emotions along the way. The band Kangaroo is live on stage (violin, drums/percussion, guitar, bass). They are part of the choreography. An octet, a solo, a trio, a quintet, a pas des deux, and a nonet – all set to the driving, intricate, sometimes-romantic, sometimes, heart-pounding music of Kangaroo. This is original choreography set to original music by a stunning young band.
September 29, 2010