Art Deco on Canvas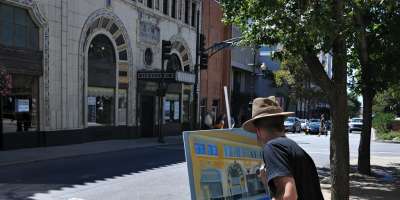 Photo of the Day: A Painted Portrait of the S&W.
Asheville artist, Josh Spiceland, was spotted on the street capturing the beautiful S&W Building on canvas. This historical and iconic art deco building, located in the heart of downtown Asheville, was designed by Douglas Ellington, a famed architect whose legacy influenced many of Asheville's most interesting buildings. The S&W opened its doors in 1929 and ran for 45 years. The building has housed other businesses throughout the years and is currently on the market.
Josh has been living in Asheville for eight years. He has helped create murals near Izzy's coffee shop on Lexington Avenue as well as the I-240 bridge mural. You can see more of his work here.
September 13, 2012