Are You "Game" for Something New This Thanksgiving?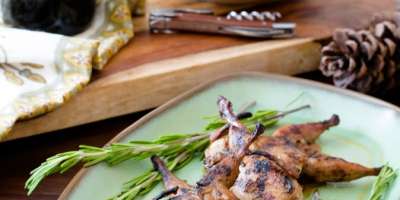 3 Wild Holiday Recipes from Biltmore's chef
Photo courtesy of Biltmore.
If there's one place that really knows how to put together a holiday feast, it's
Biltmore
. Back in the days when the Vanderbilts lived in America's Largest Home, even an intimate Thanksgiving for a few family members involved 10+ gorgeous courses, served in the Banquet Hall beside the elegant triple fireplace.
In preparation for the holidays—and in order to celebrate a new small batch red wine called
The Hunt
—Chef David Ryba at the Dining Room on the
Inn on Biltmore Estate
created dishes that pair perfectly to the new wine and that call upon inspiration from George Vanderbilt himself.
These wild recipes are perfect for the cook who wants to try a little something different for the holidays.
 Check out recipes for Grilled Quail with Apple Butter Barbecue Sauce, Seared Duck Breast with Cassoulet and Venison Pastrami Sandwich on Rye.
Vanderbilt had a great love for the outdoors and a dream of making his estate self-sustaining. So in addition to raising meat poultry fruits and vegetables on the grounds, he also carefully managed the bounty that came from the estate's more than 100,000 acres of forestland. Hunting was a favorite pastime for estate guests and Vanderbilt's rustic hunting lodge regularly provided Biltmore's kitchen with wild meat.
For Chef Ryba, "field-to-table" is not an abstract concept, but rather an approach that is deeply embedded in his cooking philosophy. At a young age, his father taught him how to fish and hunt for many of the foods the family ate and also how to butcher what he caught with an emphasis on preparing the entire animal with minimal waste. These early experiences helped shape his path as a chef and, like the founder of the estate George Vanderbilt, instilled in him a deep respect for the land and the food it gives us.
To make
The Hunt
, Biltmore Winemaker Bernard Delille collaborated with premium growing partners in Sonoma during the 2012 vintage year. The result is a delicious blend with aromas of berries, toasty oak and chocolate leading to concentrated fruit flavors and earthy notes.
Discover more Asheville-inspired holiday recipes.
November 21, 2014