And so it begins...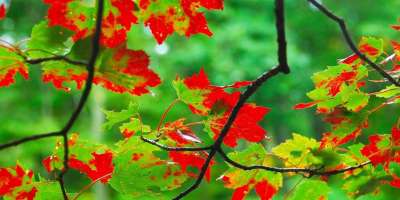 Happy first day of fall! The calendar says it is officially autumn. So, once again, we turn to our trusty area foliage experts for their biological insight on fall color potential for our region.

Fall color fanatics will be glad to hear that the news is good! Late summer rains and cooling weather patterns (yes, we've been eyeing those warm sweaters in our closets) mean that fall 2008 could produce the most colorful leaf season in years in Western North Carolina.

Check out the first
Weekly Color Report
of the fall season at FallintheMountains.com. We'll be gathering tips from a team of foliage experts and color hunters across the region to provide weekly tips on where to locate the brightest fall color. Fall Prognostications from Academia

"I think it (fall) will be better than the past couple of years, but the next few weeks will be important. The cooling trend we are now experiencing is a good start. If this is followed by a light frost, we could be looking at some nice fall foliage this year," said Dr. Gary Walker, a biology professor at Appalachian State University.

"Recent rains will help keep the leaves on the trees and extend the fall color season," said Dr. Kathy Gould Mathews, assistant biology professor at Western Carolina University. "We should hope for a rapid cooling of temperatures in late September into October for the best fall color show. Normally, the peak color occurs within a week after the first frost."

Simply the Best, And Here's Why

"I think fall color in WNC is among the best fall color shows anywhere in the world! There are very few places you can go to see better fall color than the Appalachian Mountains," said Jesse Pope, lead naturalist at Grandfather Mountain. "The diversity of tree and shrub species here in WNC help make our fall color so varied." "Year in and year out, the maples (neon red, orange, and yellow), oaks (red, yellow, rusty brown), sourwood (red), black gum (maroon), beech (gold), birches (yellow/gold), ashe (yellow), cottonwood (yellow), buckeye (yellow, rusty gold), among many other species really put on a show," said Pope.



Release Your Inner Color Hunter



If you have a passion for fall color and are handy with a camera, we encourage you to share the love by submitting your color-filled
photos
to FallintheMountains.com. You can even share your
favorite fall viewing spot.
And, if you're familiar with Twitter, you can even follow and submit photos to the virtual color hunter (
@fallcolorhunter
).
September 21, 2008