American Grilled: Cooking Competition Heats Up in Asheville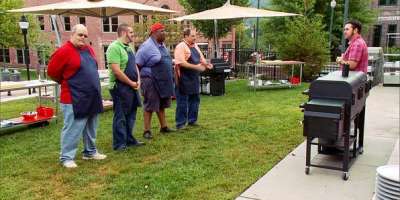 Local grill masters, flavors take over prime time
Courtesy of Travel Channel.
When grill masters all over America tune in to Travel Channel tonight for the
premiere of American Grilled
, the hot new cooking competition hosted by Bayou Bakery chef David Guas, they'll get a taste of Asheville, N.C. too.
The show's producers traveled to Asheville this past September to film the pilot episode, which features four local grill masters vying for the $10,000 prize, a
local blogger and food writer at the judges table
and several Asheville-area food products on the menu.
Asheville's
Pack Square Park
is a stunning co-star in this sneak peek clip of tonight's episode. Our four grill experts are cooking up some N.C.-raised bison, and the competition is down to the wire:
Fan's of Asheville's culinary scene will have to watch to see what other local flavors are mixed in to the contest, and to find out who takes home the prize.
Is that a Hi-Wire lager we see in this video clip
? (Hint: look around 0:47)
The new show is also garnering some great publicity. Check out
this article in the Washington Post
, and
watch judge David Guas grill on the Today show
--he even shared his
great grilling recipes
.
Tune in for
American Grilled
, tonight at 9 p.m. ET on Travel Channel. The Asheville episode, "You Hear That Sizzle?" will also air Sunday, July 6 at 9 p.m. ET.
Taste Your Way Through Asheville
July 2, 2014