ActionFest & Chuck Norris Take Over Asheville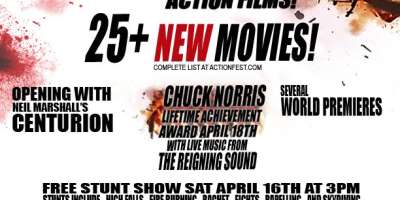 ActionFest, the first film festival devoted exclusively to action films, arrives at Asheville's Carolina Cinemas this week. The fun begins April 15, continues through April 18 and includes a special guest appearance by Chuck Norris!
Highlights include three world premiers, three North American premieres, two U.S. premieres, nine regional premieres and rare theatrical screenings of select Chuck Norris films.
All-inclusive event badges and individual tickets can be purchased online at www.actionfest.com or at the Carolina Cinemas Asheville box office.
April 13, 2010