A Sweet New Recipe Collection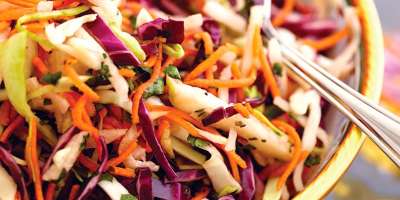 Tupelo Honey Cafe's Latest Cookbook Shares Regional Faves
Photo by Brie Williams.
The culinary team at
one of Asheville's most iconic restaurants
is at it again! Chef Brian Sonoskus and co-author Elizabeth Sims have teamed up to create
Tupelo Honey Cafe: New Southern Flavors from the Blue Ridge Mountains
, which features 125 new recipes made with some of the region's most iconic ingredients.
Fans of Southern cuisine can expect a menu of moonshine cocktails, picnic basket best bets, classic comfort foods and new twists on Appalachian flavors.
Order a copy today
to start cooking up a bit of Asheville in your own kitchen, and start with this crisp and crunchy Asian slaw recipe:
Technicolor-Rama Asian Slaw
This colorful explosion of flavors is the perfect complement to barbecue, fried chicken, grilled pork, or fish. With its mixture of red and green cabbages, bok choy, carrots, jicama, and apple, this is a side chock-full of nutrients and vitamins, not to mention the zing of fresh ginger. This is one vegetable concoction that is not only good for you, but pretty on the table as well.
3 cups shredded green cabbage
1 ½ cups shredded red cabbage
1 cup thinly sliced bok choy
½ cup coarsely shredded carrots
½ cup julienned jicama
½ cup finely diced Granny Smith apple
¼ cup finely chopped fresh cilantro
Dressing (recipe follows)
Place the shredded cabbages, the bok choy, carrots, jicama, apple, and cilantro in a large bowl. Pour the slaw dressing over the mixture and toss well. Cover and refrigerate for 1 hour before serving, stirring occasionally.
MAKES 6 SERVINGS
Dressing
½ cup sugar
¼ cup red wine vinegar
¼ cup cider vinegar
2 teaspoons soy sauce
2 teaspoons finely minced fresh ginger
1 teaspoon freshly squeezed lemon juice
¼ teaspoon crushed red pepper
¼ teaspoon salt
1/8  teaspoon freshly ground black pepper
Combine the sugar, vinegars, soy sauce, ginger, lemon juice, crushed red pepper, salt, and black pepper in a pint jar. Cover and shake to dissolve the sugar. Refrigerate in an airtight container for up to 1 week.
MAKES ABOUT 1 CUP
From
Tupelo Honey Cafe: New Southern Flavors from the Blue Ridge Mountains
by Elizabeth Sims with Chef Brian Sonoskus, Andrews McMeel Publishing 2014

Mix up more Asheville flavors with recipes from local chefs.
April 30, 2014