A Pool With A View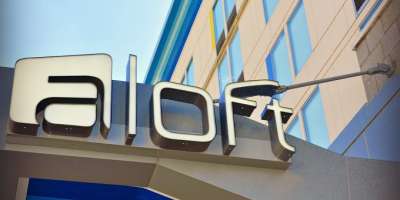 Aloft, Asheville's Newest Upscale Boutique Opens in Downtown
Asheville's downtown skyline now includes the bright new beacon of Aloft hotel, a member of the Starwood family. This contemporary hotel comes with all the comforts you would find at home... You know, things like an outdoor saline pool and cabana deck on the third floor, plus expansive mountain views from every room.
Okay so maybe you won't find those type of amenities in your own backyard, but that's all the more reason to check into this beautiful new boutique and experience it for yourself.
Every room, from the colorful lobby to the guestrooms, offers modern style and lots of comfy everything for lounging. Even the parking deck has more personality and style than you would expect.
The hotel is pet friendly and better yet, pets stay for free. That's right, no fee - and there is a pet walk on the third floor so you don't have to go far to give your pooch some exercise. There's also complimentary Wi-Fi, local art throughout the hotel, a sweet lobby bar called Wxyz, an outdoor terrace with fireplace overlooking the city 
called 
The Ledge 
and a beautiful blue pool table all cued up and ready to play.
The City View
Contemporary Style in Each Guestroom
Suites Come with a Soaking Tub
Take in Amazing Mountain Views from the Pool Deck
Wxyz Serves up Handcrafted Cocktails and Local Brew
Rack 'Em Up!
The Aloft all booked up? Check out these other lodging options in Asheville.
September 11, 2012