A Celebration of Spring in the River Arts District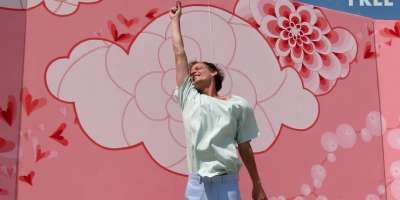 An original artistic project is underway in the
River Arts District
(RAD) of
Asheville
. Pass through that area right now and you may notice a large pink mural being created inside the RiverLink Sculpture and Performance Plaza. That mural will serve as the backdrop for the
Asheville Rites Project
, a special live performance scheduled for May 21 at 7 PM.
The project is a public performance collaboration between painter Milly Rose Freeman, dancer Garth Grimball, and musician Michael Libramento. In April, Molly installed a series of wall-sized panels and began painting. When complete the panels will set the stage for a dance piece choreographed by Garth. Michael will compose an original score for the piece that will be played live during the performance.
In the words of the artists, the overall themes for this project are Springtime, rites of passage, and the reemergence of life and color that are associated with the season. Springtime by nature is a celebration and this project seeks to channel that energy into an art event that the whole community can experience. The colors will be vibrant, the movements will be lively, the music will be fresh. The creators want this project to be an occasion to explore and share in the vitality of the season.
Garth's piece will involve 15 or so dancers from various companies and studios throughout Asheville and the surrounding areas. His choreography will draw inspiration from Jerome Robbins' "Opus Jazz," as well as specifically from the mural design and original score.
This event is free and open to the public.
For more information please visit their
blog
.
May 13, 2011