A Bathroom Worth Sharing (Online!)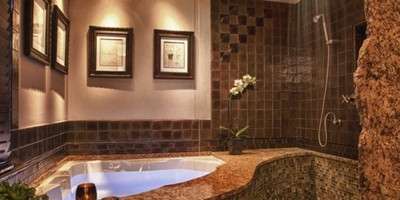 Pinterest Provides Viral Success For Asheville B&B
The Bathroom Seen Round the World
An Asheville B&B experienced unexpected viral success when their luxurious Fitzgerald bathroom, made its way across the pin boards of thousands of loyal Pinterest users. The owners of 1900 Inn on Montford, an Asheville bed and breakfast, had never heard of Pinterest until the day a guest checked in telling of how she first learned of their Inn. 
"She saw our Fitzgerald bathroom on Pinterest," said Innkeeper, Lynn Carlson. "This was the first week of January and a couple of weeks later we heard from BedandBreakfast.com that the photo had gone viral."
"On Wednesday of that week, it has been pinned nearly 7,000 times, on Thursday it reached 8,000 and by Friday night it has 10,500 pins." Latest count shows that the pin had been shared over 47,729 times!
Pinterest has certainly become the new buzz site in social media, and with success stories such as this, it's poised to stick around. The Carlsons say they are still booking business thanks to a single photo. 
Follow Asheville on Pinterest!
March 1, 2012