7 Ways to Shop Asheville for the Holidays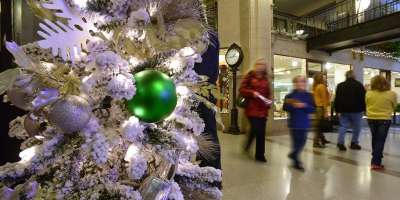 The weekend's pop-up shops & special sales 
This weekend, check out these seven holiday shopping events, and pick up a uniquely Asheville gift for those hard-to-buy-for people on your Christmas list:

Shop & Dine West Asheville, featuring special deals and hours, a window decorating competition and a festive wrap-up party at Urban Orchard, is on Saturday, December 13.

Hunt for the perfect gift among enchanting holiday lights and a selection of entries from the National Gingerbread House Competition during Winter Wonderland at the historic Grove Arcade, ongoing through January 4th. Santa visits on Sunday, December 14th and 21st from 1-5 p.m.

Shelter Collective, a unique local design studio including all kinds of handmade goods from handbags to homes, is hosting their annual holiday pop-up shop December 11th-13th at the Center for Craft, Creativity & Design in downtown Asheville. The shop will showcase work from more than 30 designers.

Each December the celebrated artists of the Southern Highland Craft Guild offer a special holiday sale featuring studio seconds, overruns and discontinued stock. Don't be fooled by the great prices--the workmanship on these items is world class! Check it out for yourself on Saturday, December 13th at the Folk Art Center from 10 a.m.-4 p.m.

Another great stop for handmade gifts is the Cool Craft Market held December 12th-14th. The market also partners with Blue Ridge Food Ventures--a local food business incubator--to highlight locally crafted edibles alongside artisan goods of all kinds.

Enjoy a warming cup of apple cider or a glass if wine as you browse an excellent selection of crafts and fine art at the Grovewood Gallery's Holiday Sip & Shop on Friday, December 12 from 10 a.m. to 6 p.m. Plus save on regular-priced and sale items.

On Saturday at Desert Moon Designs in the River Arts District, enjoy a holiday open house from 11 a.m.-4 p.m. where you can meet the artists as you shop from a collection of jewelry, paintings, ceramics, glass and fiber in the $5-$50 range.

Of course, Asheville's many galleries, boutiques, craft shops and antique stores are always open and also excellent places to hunt for that special gift.

Explore the best spots for holiday shopping in Asheville.
Updated November 9, 2018