4 Reasons That Two Chefs Are Better Than One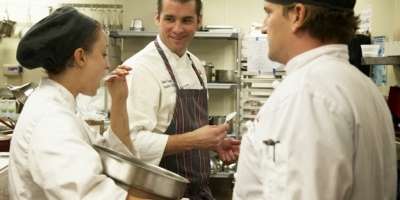 Competition dining offers twice the experience
Chef Adam Hayes from Red Stag Grill,

winner of the 2013 Final Fire competition.
With more than 250 independent restaurants in the the immediate Asheville area, choosing where to eat dinner may require more than the flip of a coin, or even the roll of some dice. And if your Asheville getaway is limited to just a few days, you may find yourself wishing you could have two dinners. Now, in a way, you can.
Competition dining is not new--Iron Chef America first hit television screens around the U.S. in 2005. But not everyone has experienced the thrill--or tasted the spoils--of a culinary battle in one of the South's top foodie towns.
What makes competition dining such a tasty choice:
#1:
As we've already mentioned,
these dinners provide the opportunity to eat at two restaurants at once--sort of
. Each meal consists of six courses, three prepared by each chef's team. And although menus vary from one night to the next, diners are often treated to two starters, two entrees and, best of all, two desserts!
#2:
The chefs who choose to participate in these competitions are passionate about their work, and that's great news for the diners!
Because they get to make up their menu on the day of the event, competing chefs sometimes choose dishes that are vastly different from what appears on the tables at their restaurant.
Maybe the chef of that popular American brewpub has a real passion (and talent!) for Asian noodle dishes--who knew?
#3:
Have you ever read a restaurant review and thought either a) Aah, food critic, that's the dream... or b) I can do better than that! Well here's your chance!
Every diner at the dinner has an opportunity to score each dish based on aroma, presentation, flavor etc., and everyone's scores are combined to choose a winner.
Bonus: Playing food critic means you have to pay close attention, which can boost your enjoyment of your meal.
#4:
Are you ready for an adventure? Because each competition dining experience will take you for a ride!
For each event, the competing chefs are presented with a "secret" ingredient such as blueberries, bacon, local eggs or even chocolate that must make its way into each and every dish.
There's bound to be something new on every menu!
There are two competition dining options in Asheville this spring:
Chefs Michael Mahoney and Michelle Bailey, who

will compete March 11 in the Fire on the Rock series.
Fire on the Rock
kicks off tonight and runs on various dates throughout the month of March. The events are held at the Lioncrest on
Biltmore Estate
. The winning chef from each match-up advances to the next round, culminating in a "Final Fire" competition later this year.
The folks at Fire on the Rock have also teamed up with the Asheville Bed & Breakfast Association to offer a can't-miss travel package.
The package includes a night at an area B&B, 2 tickets to a Fire on the Rock event and an amazing selection of other foodie gifts and gift certificates.
Stay Tuned: Tomorrow night, @Foodtopia will be live-tweeting from the Fire on the Rock dinner matching up Michael Mahoney from Isis Restaurant & Music Hall with Michelle Bailey from Season's at Highland Lake Inn.
Later this month, the
Asheville Culinary Championship
takes over. Formerly the WNC Chefs Challenge, this event takes place every Tuesday evening at the
Century Room at Pack's Tavern
. Instead of advancing a winner each week, the competition's finalists will be chosen from the chefs with the top scores over the course of the series. Check back for more information in coming weeks.
Discover Asheville's 200+ independent restaurants.
March 10, 2014