2nd Saturdays in the River Arts District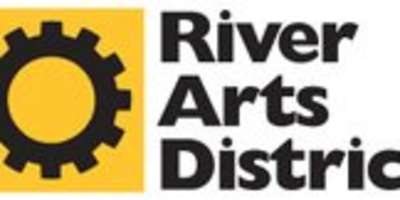 This weekend Asheville's River Arts District is proud to participate in Collect Art Asheville, the region-wide Second Saturday Initiative. Artists and art organizations throughout Western North Carolina open their doors and host openings, events classes and workshops on the second weekend of each month. All events are free and open to the public. Here are a few things you will see on Saturday, March 12 in the River Arts District.
Pink Dog Creative
• Brad Stroman - open 10-3 (Brad will be working on a new piece, so people may stop in and watch as a wabi-sabi composition is painted. He'll also be available to answer questions about the Japanese Zen Buddhist aesthetic of wabi-sabi.)
• William Price - open studio from 10-4
Studios of The Cotton Mill & Mill Gallery at 122 Riverside
• Cloth, BZ Design and Margaret Couch Cogswell - open 11-4:30
• Exhibition of works of building artists:
Upstairs: Ed Bauer, Christine Daugherty,John Mac Kah, Genie Maples, Skip Rohde, Nancy Silver
On display and for sale: works on paper, stained glass, landscape and prints in oils, etchings, figure in oils & acrylic.
Instruction available, demos, ongoing in some studios.
Downstairs: Eileen & Marty Black, Margaret Couch Cogswell, sutherland Handweaving Studio, Robin Black Walder, Barbara Zaretsky. Pottery, textile and fiber arts, jewelry, weaving
Workshops, demos and instruction.
Open from 10AM until 4PM, Monday through Saturday

Riverside Studios
Located on the corner of Riverside Dr.and W Haywood/Craven St, 828-551-5045
New paintings by Brit J Øie, Ben Kaleblevi and Lucretia Speas. - open 11am-4pm
Riverview Station
Elizabeth Henderson - special open hours 11-3
The Wedge
Studio 2B2: Joyce Thornburg - extended open hours 10-5
240 Clingman Ave
Jonas Gerard Fine Art will be offering a fun-filled afternoon in which we'll be sharing the artists' history and work, first hand. Day also includes:
• A hospitality station with light refreshments
• Ongoing personal tours of the gallery and chance to see his "life story wall"
• Experience of our in-house dye-sublimation process by purchasing your own 8x8 or 12x12" tile
• An opportunity to win a free print for those visitors who are added to our email list
It's an exciting day for the whole family to enjoy!
Constance Williams Gallery
Salon du Vineyard and Constance Williams Gallery present conceptual clay artist Greg Vineyard's latest showing of works for interaction and discussion, plus charity fundraiser.
"Mis-Community-Cation: Dioramas of Discord" encourages viewers to think about interaction and communication, as well as to play with art and attempt to bring harmony to chaos.
Meet the artist, play with the dioramas, mingle, make new friends.
10% of Vineyard's proceeds on any of his work in Constance Williams Gallery during the run of the show will go to Craft Emergency Relief Fund (CERF+, www.craftemergency.org), a non-profit that assists artists and crafters in need.
Constance Williams Gallery is located at 9 Riverside Dr., the middle building in the CURVE studios & garden tri-plex. Open Every Day 11 am – 4 pm.
Learn more about the River Arts District by visiting here.
March 11, 2011